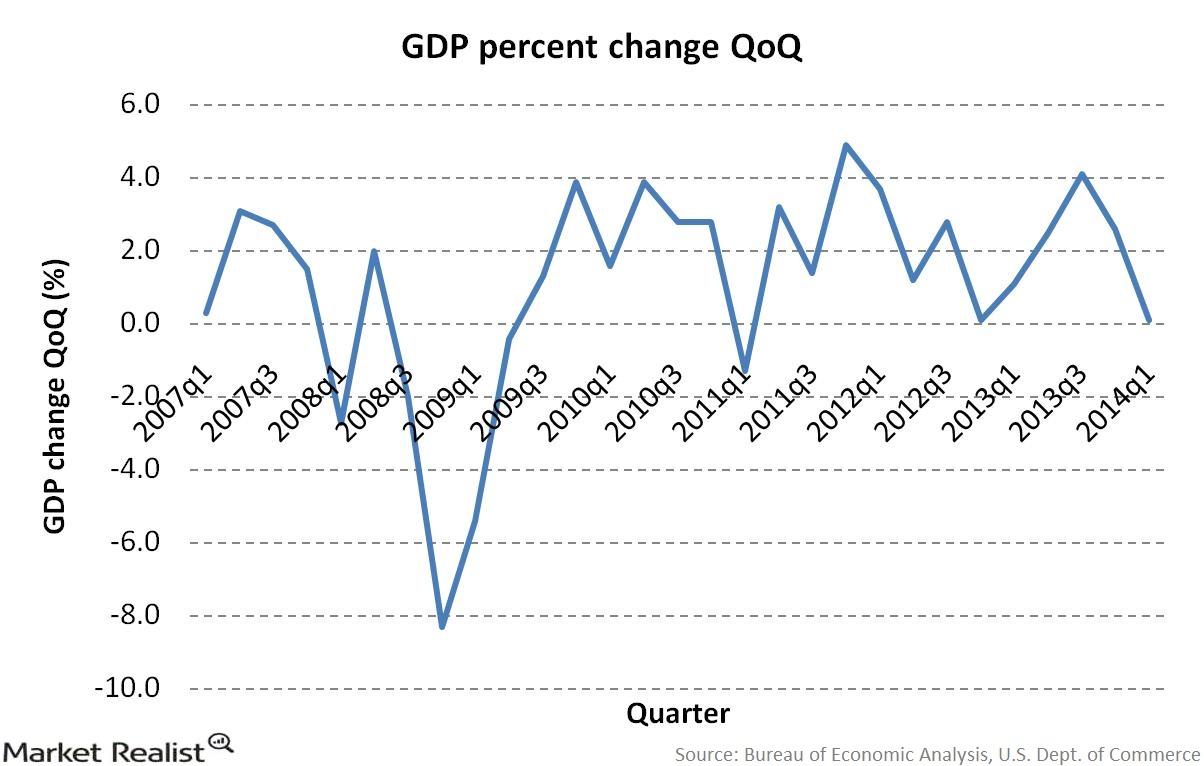 Gross domestic product as an economic indicator for investors
By Surbhi Jain

May. 6 2014, Published 5:33 p.m. ET
GDP as an economic indicator
Economic production and growth, what GDP represents, has a large impact on nearly everyone within that economy. For example, a healthy economy is characterized by low unemployment and wage increases as businesses demand labor to meet the growing economy. So, GDP numbers gather important clues with respect to the direction of the economy.
A growing economy leads to higher consumption, and in turn, growing corporate profitability and sales. This drives the equity indices such as the SPDR S&P 500 ETF (SPY), the iShares Core S&P 500 ETF (IVV), and the iShares S&P 100 ETF (OEF), which track large-cap equities of companies like Apple Inc. (AAPL) and Exxon Mobil (XOM).
The importance of GDP
Article continues below advertisement
The gross domestic product (or GDP) is one the primary indicators used to gauge the health of a country's economy. A growing economy means increasing business and economic activity, expansion in production, and in turn, the need for credit. So, the health of the economy is what fuels the financial markets. More specifically, GDP numbers help an investor to assess the following:
As it consists of consumer spending, investment expenditure, government spending, and net exports, GDP portrays an all-inclusive picture of an economy. It provides insights to the investor by highlighting the economic trends. Knowing the economic trends can be very useful for planning one's investments, especially long-term.
GDP is used as an indicator by most governments and economic decision-makers for planning and policy formulation. As government policies directly influence the financial markets, investors like to keep a keen eye on the GDP reading and estimates.
GDP helps the investors to manage their portfolios by providing them with guidance about the country's economic state. A long-term investor may want to recognize trends or pick up signs of a growing economy, and invest accordingly. Moreover, since the various components of GDP give insights into performance of major economic sectors, investors may want to manage their sector weightings in their portfolios accordingly.
The calculation of GDP provides information about the general economic health. A negative GDP growth portrays bad signals for the economy. Economists analyze GDP to find out whether the economy is in recession, depression, or boom. It serves as an important economic indicator.
To understand how GDP is calculated, read the next part of this series.