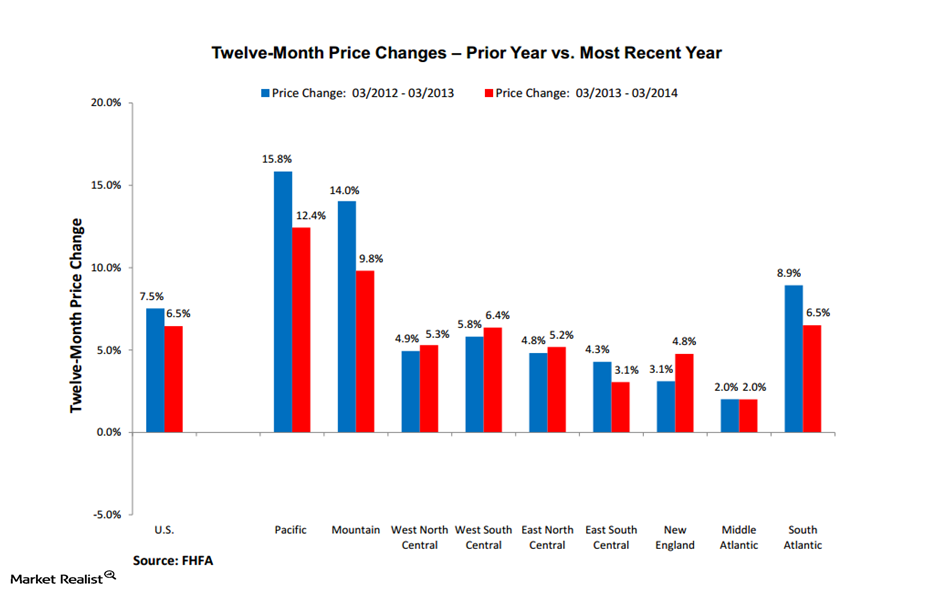 Geography affects home price appreciation and builders like NVR
By Brent Nyitray, CFA, MBA

May. 29 2014, Published 9:00 a.m. ET
All real estate is local
The real estate recovery has been uneven, as some parts of the country are outperforming others. As you can see from the chart below, the Pacific and Mountain states outperformed the rest of the country over the past two years. The Middle Atlantic and New England have underperformed. There are many reasons why a region may outperform another region, and the biggest reason is usually the underlying performance of the economy.
Economic differences
Article continues below advertisement
We've seen strong price appreciation in the energy-intensive states like Texas and North Dakota. These states have high-paying jobs that attract workers and have created housing shortages, especially in North Dakota, where they can't build houses fast enough. On the other hand, the Rust Belt states have been struggling for decades as their populations shrink. Detroit is so bad that the city may end up razing entire neighborhoods and turning them into their best use, which is farmland. The Northeast continues to struggle as the financial industry shrinks and California are benefiting from a technology boom.
Regulatory differences
Another important difference is that some states have very borrower-friendly (or creditor-unfriendly) policies that inhibit price appreciation. For example, some states require a judge to approve all foreclosures, while other states have a streamlined process. New York State is legendary for how long a person can live in their home without paying their mortgage. It can go on years and years. As a result, New York, New Jersey, and Connecticut have yet to really make much of a dent in the shadow inventory of foreclosed homes, while states like California dealt with the pipeline years ago. This helps explain why prices are rising in CA and stagnant (or still falling) in New York.
Implications for homebuilders
What this means for builders is that you want to pay attention to geographic exposure. For example, a West Coast–based builder like KB Home (KBH) or Standard Pacific (SPF) may be in a more attractive area than a mid-Atlantic builder like NVR (NVR) or a geographically diverse builder like PulteGroup (PHM). Investors who are more comfortable not making geographic bets should look at the S&P SPDR Homebuilder ETF (XHB).
To learn more about how homebuilders are faring, check out the Market Realist series Key homebuilder outlook: April starts, sales, permits, and prices.