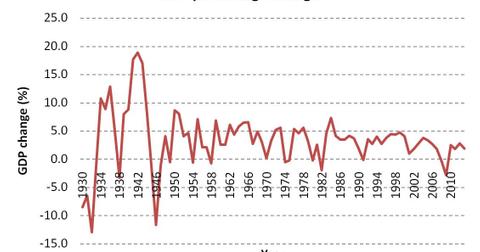 Why GDP is a country's most comprehensive economic scorecard
By Surbhi Jain

May. 6 2014, Published 12:32 p.m. ET
Gross domestic product
Gross domestic product (GDP) is an all-inclusive measure of economic activity, as it encompasses every sector of the economy. A country's GDP is a measure of the output of goods and services produced by labor and property located in that country. More specifically, GDP represents the total value of the country's production during the period and consists of the purchases of domestically-produced goods and services by individuals, businesses, foreigners, and government entities.
Real GDP
Article continues below advertisement
Real GDP is nominal GDP adjusted for inflation. The adjustment made to the nominal GDP for price changes (or inflation) facilitates comparison between two periods. It helps determine whether the value of output has gone up because more is being produced or simply because prices have increased. While making a judgment about an economy, the first thing people want to know is whether its total output of goods and services is growing or shrinking. Real GDP plays an important role here.
For ETF investors, the performances of popular exchange-traded funds (or ETFs) like the SPDR S&P 500 ETF (SPY), the iShares Core S&P 500 ETF (IVV), and the iShares S&P 100 ETF (OEF), which track large-cap equities of companies like Apple Inc. (AAPL) and Exxon Mobil (XOM), also serve as good indicators of the course that the U.S. economy is taking.
What does the current GDP reading say?
The Bureau of Economic Analysis, U.S. Department of Commerce released its estimate of the GDP for the first quarter this year on April 30, 2014. Accordingly, the real GDP increased at a seasonally adjusted annual rate of 0.1% in the first quarter this year. This, compared with the 2.6% rate of growth in GDP in the previous quarter, highlights the role of adverse weather in dampening production, and consequently, growth in the economy. Extreme winter weather conditions during the first two months of the year affected production, and in turn, the GDP this quarter.
The nominal GDP, which is the market value of the nation's output of goods and services, increased by 1.4% or $60 billion to a level of $17,149.6 billion, for the same period. In the fourth quarter last year, the current-dollar GDP had increased by 4.2%, or $176.7 billion. The Bureau of Economic Analysis is expected to release its second estimate for the first quarter GDP by May 29, 2014.
The next part of this series sheds light on the importance of GDP.