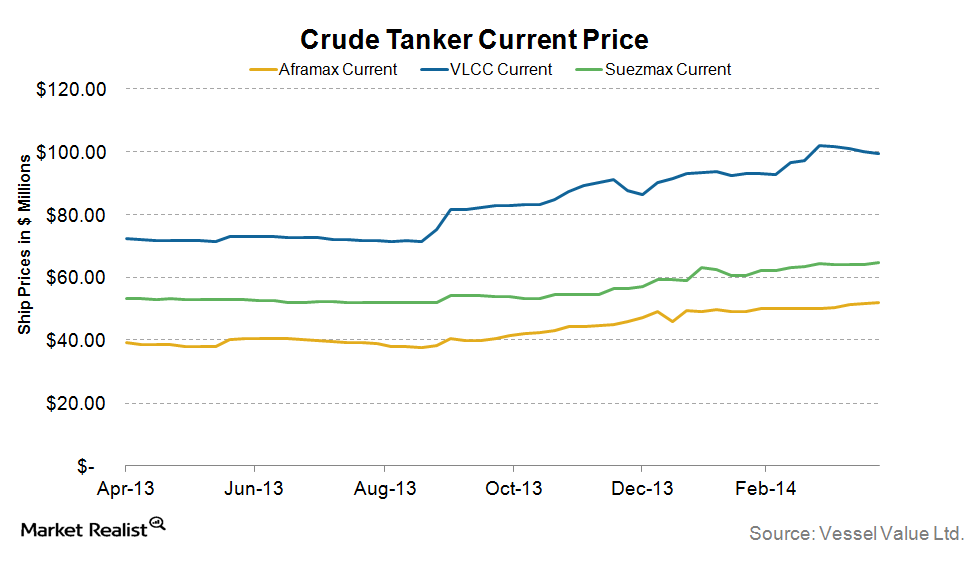 Crude tankers may still do well long-term, but there will be pain
By Yanyu Mao

Aug. 18 2020, Updated 6:30 a.m. ET
Vessel price as an indicator
Vessel prices for ships are often good indicators of financial health in the shipping industry. When shipping demand is growing more than ship supply, shipping companies will place additional orders, which drives up vessel prices. Since it takes more than two years to build a new ship, the supply curve of new ships is rather inelastic. When oil tanker shippers are eager to expand, this optimism reflects in rising crude tanker vessels prices. So looking at the current vessel prices may also tell investors about current market sentiment.
Current prices are moving sideways
Article continues below advertisement
The average prices for current Aframax, Suezmax, and VLCC vessels have risen since the second half of the 2013. The price of an Aframax vessel increased from $38.11 million in June 2013 to $52 million in April 2014. At the same time, Suezmax price is now $65 million per vessel, compared to $53 million in June 2013. VLCC vessels also rose throughout the period, although they've been quite weak over the last two weeks, dropping from $102 million at the end of March to $97 million at the end of April.
Older vessels are feeling the pain
Still, fundamentals are quite negative if we take a look at older vessels, which are generally more sensitive to short-to-medium-term movements in shipping rates and outlook. The average price of five- and ten-year VLCCs, for example, has fallen 5% since the end of March. While older Suezmax vessels are holding up, the trend has been negative as well. So while long-term fundamentals may still be positive for the Guggenheim Shipping ETF (SEA) and crude tankers such as Teekay Tankers Ltd. (TNK), Tsakos Energy Navigation Ltd. (TNP), Nordic American Tanker Ltd. (NAT), and Frontline Ltd. (FRO), the nearer-term outlook is unfavorable.