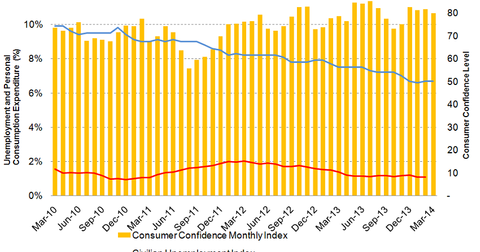 Why do unemployment and inflation growth hurt consumer spending?
By Sandra Nathanson

Updated
Consumer spending and its effect on the retailers
In this series, we'll follow an E.I.C (Economy, Industry and Companies) approach to examine the complete retail spending value chain. From an economic perspective, we'll assess the two major economic drivers including employment and personal consumption expenditure (Or PCE) and then, their impact on the retail industry, as fairly understood by the Redbook and ICSC-Goldman Sachs (GS) Indices. At last, we'll drill down on to the impact on major retailers reflected in the SPDR S&P Retail ETF (XRT), Power Shares Dynamic Retail Portfolio (PMR), and VanEck Vectors Retail ETF (RTH).
Article continues below advertisement
If ever there is any economic data that can move the markets, it has to be the unemployment and inflation rate report. The Fed officials, Wall-Street analysts, and investors constantly monitor this data to gauge the improvement in the economy and its impact on price levels. Inflation erodes the value of money people hold, and more importantly, the threat of inflation adds to uncertainty, which makes both the consumer and the corporate less confident about their spending.
As we observe in the chart above, the inflation rate at 1.1%, much below the targeted 2%, is definitely a prominent concern for the officials at the White House. According to the Bureau of Labor Statistics (BLS), the U.S. economy has added 192,000 jobs for the month of March 2014—slightly below than the analysts' consensus of 206,000, but higher than February's payroll data. However, unemployment rate remained at 6.7%—although much lower than a year before. The Bloomberg Consumer Comfort Weekly Index (Or Bloomberg CCI) dropped by 2%, indicating that the high number of Americans felt negative about the condition of the U.S. economy, their personal finances, and the buying climate.
Since, consumer spending drives two-thirds of the economy, a fall in the spending could hit the stock price and valuations of the retail companies such as Wal-Mart Stores, Inc. (WMT) and Target Corporation (TGT), to name a couple.
To further understand the real meaning and correlation of the economic indicators we discussed above and to know the material impact on the consumer shopping status, read Part 2 of the series.