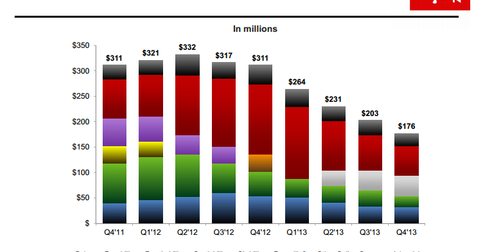 Steven Cohen's Point72 Asset Management lowers its stake in Zynga
By Samantha Nielson

Updated
Point72 Asset Management and Zynga
SAC Capital Advisors, founded by Steven A. Cohen, made some updates to its equity portfolio in the recent past, including lowering positions in many stocks. The fund has also renamed itself as Point72 Asset Management starting this month.
SAC Capital reduced its position in social gaming pioneer Zynga (ZNGA) this month. A 13G filing with the SEC disclosed that SAC's holding was reduced to 3.9%, or 28,575,095 shares, from the 38,694,391 shares held in March. SAC's February 13F filing had revealed 15,757,900 shares in Zynga that were boosted last month to 38,694,391 shares.
Zynga is a leading provider of social game services. The company develops, markets, and operates social games as live services played over the Internet, social networking sites, and mobile platforms. Its games are accessible on Facebook and other social networks, mobile platforms, and Zynga.com. The games are generally free to play, and Zynga generates revenue through the in-game sale of virtual goods, mobile game download fees, and advertising services. At the end of the fourth quarter, Zynga had 1.3 million MUPs or monthly unique payers.
The company said 2013 was a challenging year. It saw management changes, including hiring a new CEO, Don Mattrick, and reduced capital expenditures by $90.2 million, reduced headcount by over 1,000 employees, and reduced total costs and expenses by $525.3 million. The company has lost almost half of its value since its IPO in 2011.
Facebook (FB) is currently the primary distribution, marketing, promotion, and payment platform for Zynga's games with 75% of revenue generated from Facebook platform in 2013. The company saw 9% and 11% year-over-year growth in bookings and revenue, respectively, on mobile platforms as its players continued to play games on their phones and tablets. In 2013, Zynga Poker, FarmVille 2, and FarmVille were its top three revenue-generating games.
The Farmville and Words With Friends maker beat revenue and earnings estimates in the fourth quarter, but revenue saw sequential and year-over-year declines. Revenue was $176 million for the fourth quarter of 2013, a decrease of 43% compared to the fourth quarter of 2012 and a decrease of 13% compared to the third quarter of 2013. Online game revenue was $152 million, a decrease of 44% compared to the fourth quarter of 2012. Advertising revenue decreased 35%, to $24 million. Net loss narrowed to $25 million from a net loss of $49 million for the fourth quarter of 2012, and up from a net loss of $68,000 for the third quarter of 2013. Non-GAAP EPS was -$0.03 for the fourth quarter of 2013 compared to $0.01 for the fourth quarter of 2012. The company also saw a fall in DAU's (daily active users) and MAUs (monthly active users).
Total revenue decreased $408.0 million in 2013 as a result of a decline in both online game and advertising revenue. Bookings decreased by $431.5 million from 2012 to 2013 due to declines in existing games and the lack of successful new launches to offset these declines.
Zynga announced that it's acquiring the privately held NaturalMotion, a mobile game and technology developer known for CSR Racing and Clumsy Ninja, for approximately $527 million in cash and equity. The acquisition is expected to expand Zynga's creative pipeline into two new consumer categories, Racing and People simulation.
Zynga said it expects 2014 to be a growth year on the back of restructuring efforts and focus on mobile gaming. In April 2013, Zynga launched its first real-money gaming (RMG) offerings, ZyngaPlusPoker and ZyngaPlusCasino, in the United Kingdom. Revenue is projected to be in the range of $155 million to $165 million for fiscal first quarter of 2014. The company expects a net loss in the range of $56 million to $49 million, including a restructuring charge of approximately $15 million to $17 million.
Zynga's peer, the Candy Crush Saga maker King Digital Entertainment Plc (KING), launched an IPO last month priced at $22.50 per share, valuing the company at $7.08 billion. However, the stock fell on the first day of public trading and it ended 16% lower than its $22.50 IPO price. Another peer, Renren (RENN), saw reports that it has downsized its gaming division due to declining revenue. Lottery-and-gaming company Scientific Games Corp. (SGMS) saw revenue growth on the back of the acquisition of WMS Industries last year.
To learn more about important hedge funds' portfolio updates, check out Market Realist's 13Fs for Hedge Fund Ownsership page.