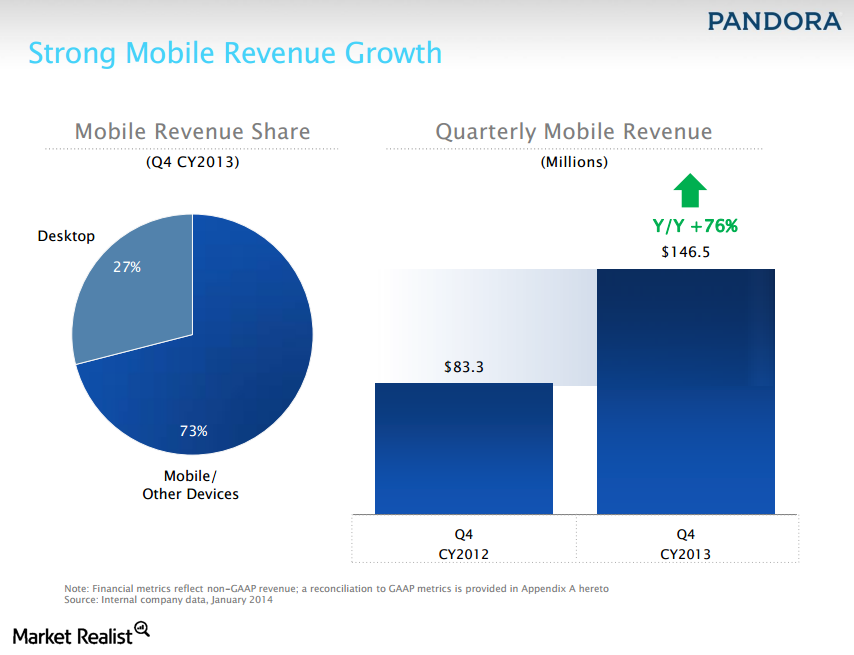 Pandora Media's revenue growth is driven by mobile advertising
By Samantha Nielson

Nov. 20 2020, Updated 12:19 p.m. ET
Revenue generation
Pandora generates majority of its revenue from the sale of audio, display, and video advertising. The company's key objective is to enhance its market share in internet radio, which will strengthen its brand and help convince advertisers to allocate spending toward its ad products. So, its main focus is adding, retaining, and engaging listeners to build market share and grow its listener hours.
Article continues below advertisement
For the calendar year 2013, total revenue surged 56% year-over-year to $637.9 million. Advertising revenue accounted for approximately 82% of the company's total revenue and was up 45% to $521.2 million. Mobile ad revenues represented around 70% of overall advertising revenues and was up 69% to $366.3 million from $216.5 million in the 2012 calendar year. The company, which earlier saw revenue growth from display advertising through the traditional computer-based platform, now also sees revenue from a mix of audio, display, and video ads on mobile and other connected devices.
The company tracks advertising revenue per thousand listener hours, or ad RPMs for its free, advertising supported service as this is a key indicator of its ability to monetize advertising inventory created by its listener hours. Ad RPMs compare advertising revenue generated in a given period to advertising supported listener hours in the period. For the 11 months ended December 31, traditional computer, mobile, and other connected device ad RPMs increased as ad revenue outpaced the growth in listener hours.
Pandora usually has seven display ads per listener hour and runs 2.5 audio ads of 15 or 30 seconds per hour. The company could explore increasing its ad slots and grow revenues.
Article continues below advertisement
For the stub period of November and December 2013 (reported separately due to shift in fiscal year), Pandora's overall RPM was at an all time high of $44.71. The figure also reflected the effect of seasonal trends, as Pandora sees greater advertiser demand during the holiday season and lower advertising sales during the first quarter of each calendar year. Plus, mobile and other connected device ad RPMs benefited from the measures Pandora implemented in 2013 to better manage the growth of mobile content acquisition costs while minimizing adverse effects on the listener experience. Mobile ad RPMs were at $30.93 for calendar year 2013, an increase of 40% from the same period last year.
eMarketer predicted that Pandora (P) will have 1.7% of the net mobile internet ad revenue share this year, and is fourth in line behind Google (GOOG), Facebook (FB), and Twitter (TWTR). Facebook and Google will account for a majority of worldwide mobile ad market share this year, eMarketer estimated. News reports last year, indicated that Apple's iAd team is focused on monetizing iTunes Radio via advertising, and that developers were working on a real-time bid exchange (RTB) platform for selling in-app ads. Pandora and the above mentioned stocks are a part of Global X Social Media Index ETF (SOCL), which seeks to provide exposure to an index of social media stocks.