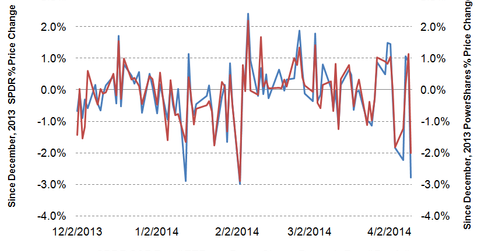 Make an informed decision: How to choose the right retail ETF?
By Sandra Nathanson

Updated
The right choice
There are many retail ETFs in the U.S. tracking the performance of their own benchmark for highly liquid large caps and small caps retail stocks. Of these, the most popular ones include SPDR S&P Retail ETF (XRT), Power Shares Dynamic Retail Portfolio (PMR), and VanEck Vectors Retail ETF (RTH).
All three ETFs mentioned above are cyclical in nature and provide exposure to discretionary consumer spending, specifically to the retail sector. However, the major differences in the ETFs are given below.
Total expense ratio (or TER)
Article continues below advertisement
It is the cost associated with buying and selling securities, including fund manager commissions, purchase and redemption fees, exchange fees, maintaining of the books and records, etc. Both XRT and RTH have 0.35% of total expense ratio, whereas PMR has a 0.63% of total expense ratio. Higher total expense ratio has a relatively high impact of the net return of the fund.
Tracking error
Tracking error and total expense ratio usually have an inverse relationship. Every time a fund manager buys or sells additional securities or bonds, transaction costs are incurred. On the other hand, buying more securities can reduce the tracking error as the funds will closely match the performance of the index. Decrease in the tracking error could translate into higher returns.
Total assets
In terms of total net assets, XRT is definitely a bigger ETF with $868.8 million funds compared to PMR's $24.3 million assets and RTH's $24.4 million assets.
Average 12-month yield
The yield is the rate of return an investor receives on holding the ETF. Among all three ETFs, RTH provides the highest 12-month yield at 1.02%, while PMR has 0.82% average yield, and the lowest among the three is XRT with a 0.72% average 12-month yield.
Holdings
XRT has a top holding in Conn's, Inc. (CONN) (1.27%), PMR in Kroger Company (KR) (5.32%), and RTH has a top holding in Wal-Mart Stores, Inc. (WMT) (10.8%).