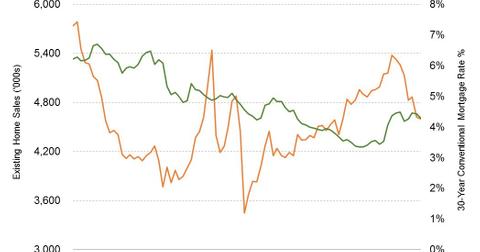 Lower home inventories: Opportunities for homebuilders like Lennar
By Phalguni Soni

Updated
What are existing home sales?
Existing home sales estimates for the month of March, 2014, will be released by the National Association of Realtors (or NAR) on Tuesday, April 22. Existing home sales are a monthly release, issued by the National Association of Realtors (or NAR). Total existing home sales represent completed transactions that include single-family homes, townhomes, condominiums, and co-ops.
Key takeaways from February's report:
Existing home sales in February, 2014 declined by 0.4% m-o-m and 7.1% year-on-year, the steepest fall since May 2011.
Although the Seasonally Adjusted Annual Rate (or SAAR) for existing home sales at 4.60 million units was in-line with consensus estimates, this was also the lowest level since June, 2012.
February was the fourth consecutive month that existing home sales have declined on a year-on-year basis. More significantly, sales in the West and South of the U.S., the biggest real estate markets, have declined by 0.5% (South) and 10.1% (West) on a year-on-year basis, though both are up 5.9% and 1.5% respectively on a month-on-month basis.
Price increases for existing homes, higher mortgage rates and limited supply of entry-level homes were some of the major causes for the decrease in existing home sales.
Key trends to watch for in March's report
An increase in the national average commitment rate for 30-year fixed-rate conventional mortgages to 4.34% in March from 4.30% in February will also impact the demand for mortgages and existing home sales. The rate was just 3.57% in March, so this factor will significantly impact y-o-y comparisons. This should also boost the percentage of all-cash transactions. Declining demand for mortgages will impact ETFs like the iShares Barclays MBS Fixed-Rate Bond Fund (MBB) and the Vanguard Mortgage-Backed Securities Index Fund (VMBS).
Implications for home construction companies
The increased prices and declining sales trend in the housing market, represents an opportunity for homebuilders like Lennar (LEN), Toll Brothers (TOL), which can benefit from filling in the supply-demand gap and maybe even benefit from the higher home prices at least in the short term. The iShares U.S. Home Construction ETF (ITB) which tracks the performance of the Dow Jones U.S. Select Home Construction Index, would represent a convenient way to invest in both Lennar (LEN) and Toll Brothers (TOL), while gaining exposure to other publicly-listed home construction companies.
While this part covered existing home sales, new home sales data for the month of March is due for release on Wednesday, April, 23. To read the preview, move on to Part 8.