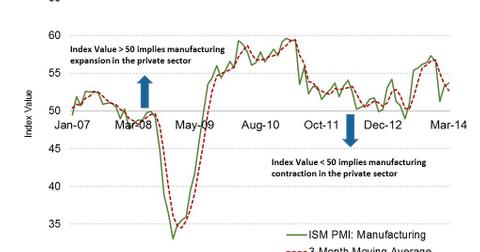 Janet Yellen's speech hints on what the Fed dashboard looks like
By Phalguni Soni

Updated
About The Economic Club of New York
Janet Yellen's speech at The Economic Club of New York on Wednesday, April 16, posed three broad questions, the answers to which would likely determine the future course of monetary policy. She also spoke about the progress the economy had made over the past five years when the economy began its turnaround after the Great Recession, emphasizing the role that monetary policy had played in orchestrating the recovery.
Founded in 1907, The Economic Club of New York is a non-profit institution which encourages discussion on socioeconomic and political issues. A non-partisan forum, the Club's membership is drawn from top-tier representatives of various industries and corporations.
Janet Yellen on the progress of the recovery
According to the National Bureau of Economic Research (or NBER), the trough of the recession was reached in June 2009, and the economy began to expand since Q3 2009. Some of the points Janet Yellen made on the economic progress since the turnaround are:
Article continues below advertisement
Non-farm payrolls and manufacturing output have almost reached pre-recession levels with the auto industry leading a manufacturing resurgence.
The housing sector appears to have turned around, although it "still has far to go."
Full employment still eludes the economy, with the optimal unemployment level of 5.2% to 5.6% still projected to be about two years away.
An increase in manufacturing output is likely to benefit ETFs invested in the industrials sector like the State Street Industrial Select Sector SPDR (XLI). Top holdings in XLI include railroad company, Union Pacific Corporation (UNP) and aircraft manufacturer, Boeing (BA). Both Boeing (BA) and Union Pacific (UNP) are part of the S&P 100 Index (OEF), which is composed of the 100 largest companies in the U.S. by market capitalization.
In this series, we will focus on the indicators that Janet Yellen has spoken about in her speech to the Economic Club of New York and its impact on fixed income (HYG) and equity (OEF) ETFs. We will also discuss her comments on the Fed's new forward guidance policies as well as the likely future path of the Fed funds rate, a topic that has been the subject of endless speculation in financial markets since the Federal Open Market Committee (or FOMC) meeting in March.
Read the next section to find out why Yellen projects the ideal full employment scenario to prevail by 2016.