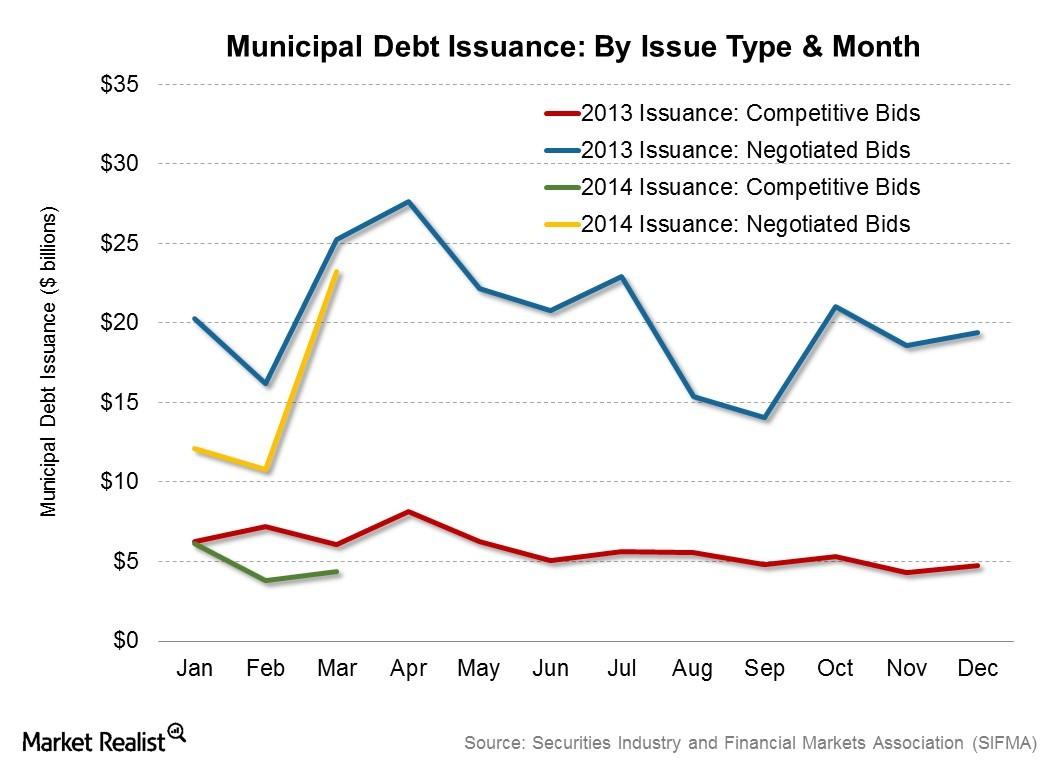 Why did Citigroup top municipal bond underwriting tables?
By Phalguni Soni

Apr. 30 2014, Updated 9:00 a.m. ET
Municipal bond issuance in terms of types of bids
In the last couple of sections we discussed issuance in terms of revenue and general obligation bonds. In this section, we will discuss municipal bond issuance in terms of types of bids (competitive bids, negotiated sales and private placements) and how underwriters like Citigroup (C), J.P. Morgan (JPM), and Wells Fargo (WFC) participate in the bidding process.
Issuance by bid type
Article continues below advertisement
Issuance via both competitive bids and negotiated sales declined in Q1 2014 compared to Q1 2013, slumping by 27% and 25%, to $14.3 billion and $46.1 billion, respectively. Competitive bids, negotiated sales, and private placements as a percentage of total muni debt issued in Q1 2014 were ~23%, 74% and ~3% of total issuance, respectively.
What is issuance through competitive bids?
In a municipal bond sale (MUB) through competitive bidding, the issuer (that is, the State government or local authority) invites bids from underwriters to purchase the bonds. The underwriters are usually large investment banks like Goldman Sachs (GS) and Wells Fargo (WFC). The underwriters submit sealed bids which specify the terms of purchase. Usually, there would be multiple bidders for the same issue, and the issuer would select the most economical bid (that is, the lowest true interest costs that consider the time value of money). The underwriter then sells the debt to investors. The difference between the underwriter's sale price and purchase price represents the profit or discount made on the deal. In case part of the bond issue remains unsold, the underwriter would either purchase the remainder, or sell it back to the issuer, depending on the undertaking.
Sometimes there is a syndicate of underwriters submitting a common bid for the same issue. This can happen for very large and high-demand debt issues. An example of a competitive bid made by a syndicate is the State of Maryland's $750 million GO issue made on March 5, 2014. The AAA-rated issue was underwritten by Citigroup (C), J.P. Morgan (JPM), and Bank of America Merrill Lynch. Both Citigroup (C) and J.P. Morgan (JPM) are part of the S&P 100 Index (OEF), which includes the 100 largest companies in the U.S. by market capitalization.
The S&P 100 (OEF) component Citigroup (C) was rated the number one underwriter for municipal bonds in Q1 2014 by Thompson Reuters. Citigroup (C) jumped two places from the comparable period last year, nabbing ~13.5% of the market share in 75 deals worth over $8.1 billion (source: The Bond Buyer).
To read about municipal bond issuance through negotiated sales and private placements, in Q1 2014, please move on to Part 5.