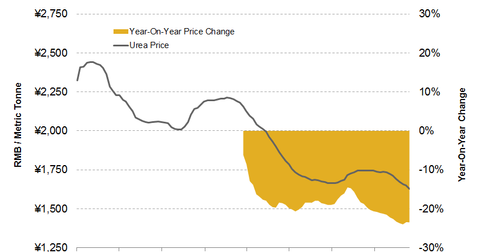 China urea prices drop to 1,626 rmb/tonne: Pressure on fertilizers
By Xun Yao Chen

Updated
China's urea price
Throughout 2013, a key factor that dictated how nitrogenous fertilizer producers such as Agrium Inc. (AGU), CF Industries Holdings, Inc. (CF), and Terra Nitrogen Company, L.P. (TNH) would perform, was China's average urea price. In 2014, urea prices in China will likely remain as a key driver of nitrogen fertilizer companies' performance, which in turn would also affect the VanEck Vectors Agribusiness ETF (MOO).

Pull back was expected
Article continues below advertisement
After rebounding from November 2013 to early 2014, urea prices in China have fallen since. On April 4, 2014, prices reached a multi-year low of 1,626 renminbi per metric tonne, based on the average of the data collected by China CCM and China National Chemical Information Center. A pull back was to be expected, since prices tend to swing up from November to March as farmers return to buy fertilizers before plantation begins, and swing down during other months when demands hit the seasonal lows.
Falling below 2013's low
More importantly, however, urea prices are now below 2013's low, which suggests weakness in urea prices likely isn't just driven by seasonality, but also some other shifts in supply or demand fundamentals for nitrogen fertilizers. Lower urea prices could also be driven by higher industry supply, lower input prices, or weaker demand.
On April 4, 2014, year-over-year changes in urea prices remained below 20%. This is usually a negative sign, since year-over-year growth measure is a quick way to adjust for seasonality. However, such a method is not perfect because seasonal strength and weakness can differ from year to year based on various reasons. While year-over-year growth should recover over the coming months as price recovers, there's a likely possibility that year-over-year changes in urea prices will remain negative territory in 2014, which wouldn't be positive for nitrogen fertilizer producers.
What might be driving the urea prices down?