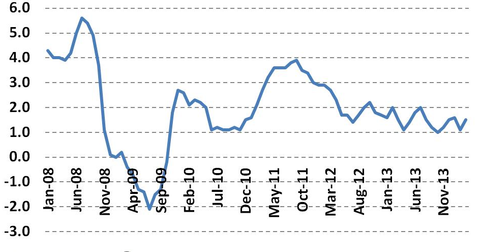 Should central bank policy favor stable prices or stable income?
By Mike Sonnenberg

Updated
Price stability
So far, central banks around the world have preferred inflation targeting as an approach to monetary policy. The reason is that central bankers believe that some degree of inflation is necessary to keep growing, but at the same time, it shouldn't get out of hand. If inflation gets out of hand, there are chances of a hard landing. To achieve controlled inflation, central bankers target a benchmark inflation rate.
Article continues below advertisement
For example, the Fed has targeted inflation of 2% since January 2012. As the current inflation is much lower, at 1.1%, and the unemployment rate is still 20 basis points above targeted 6.5%, among other factors, the Fed believes the economy hasn't reached its optimal level. That's the reason it has continued its bond buying program, albeit at a slower pace of $55 billion a month from the original $85 billion a month.
To fuel economic growth and to achieve its target inflation, the Fed kept the short-term interest helping bond markets until the end of 2013, when the bond buying reduced for the first time from its original level.
In the most recent meeting, the Fed decided to do away with quantitative targets and replaced them with a more generic qualitative approach. The Fed also indicated that the Fed funds rate will see a hike roughly six months after the bond buying program concludes.
As inflation starts rising above the comfort level, central banks raise interest rates to control the money flowing into the markets, thereby trying to control prices by slowing down the demand for goods and services.
A rise in interest rates is negative for bond market and ETFs such as the Vanguard Total Bond Market ETF (BND), iShares Core Total U.S. Bond Market ETF (AGC), and Vanguard Long-Term Bond ETF (BLV) and active corporate bond issuers such as General Electric Company (GE) and AT&T Inc. (T).
As inflation affects the prices of goods and services, it affects real GDP. So the majority of central bankers believe price stability is the most important mandate for central banks.
To learn more about why Dr. Sheedy argued against this approach, read on to Part 4 of this series.