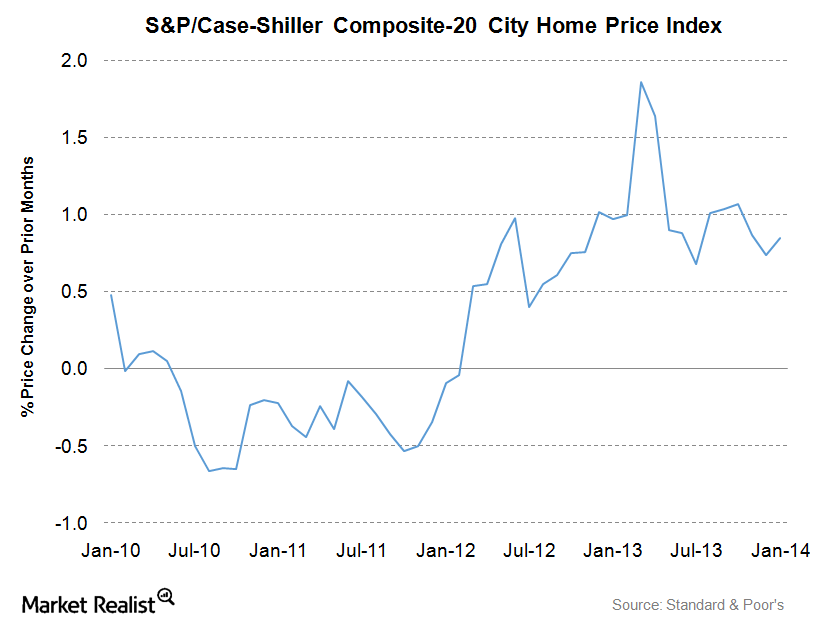 Case-Shiller 20–city Index continued to favor higher home prices
By Sandra Nathanson

Dec. 4 2020, Updated 10:53 a.m. ET
Tuesday's release
Along with the FHFA report, the Case-Shiller 20-city Index report released on Tuesday, March 25, 2014, also pointed at an improvement in home prices. The index rose by 0.8% on an adjusted basis, up from gains of 0.7% and 0.9% in the prior two months. As per the report, large home price gains were from West coast including Florida and several Midwest and Northeast cities including Minneapolis, Washington D.C., and New York City.
Article continues below advertisement
The S&P/Case-Shiller 20-metroplotian City Composite Home Price Index measures the value of residential real estate in 20 metropolitan areas of the U.S. Mostly published during the months of February, May, August, and November; the Case-Shiller Home Price Index is based on repeat transactions, that is, the index shows the appreciation or depreciation for the same houses resold. This index is probably the best measure of changes in home prices. While it covers a range of houses sold, it is strictly limited to metropolitan areas.
In line with the increase in the home prices as per the Case-Shiller 20-city Index and the FHFA House Price Index, the stock rallied on the date of the announcement.
SPDR S&P 500 ETF Trust (SPY), which tracks the S&P 500 Index, was up by 0.5%, while the Vanguard Total Bond Market ETF (BND) was down by 0.02% on the release date. The iShares U.S. Real Estate ETF price (IYR) with top holdings in Simon Property Group, Inc. (SPG) and American Tower Corporation (AMT) was down by 0.4%.