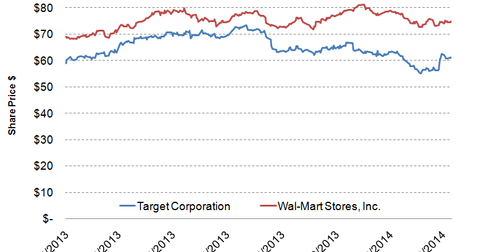 The Redbook Index release indications: Discount and other stores
By Sandra Nathanson

Updated
The Redbook index declined to 2.5% in the week ended March 8, 2014 compared to 2.9% the previous week. The Redbook's year-to-year comparison was down by 2.5%, which is the lowest reading since May, 2013. The Redbook index sees weakness for March and for the later Easter this year. This may push sales into April at March's expense.
What are discount and drug stores?
The best example of a discount store in the U.S. is Wal-Mart Stores (WMT). A discount store is a retail store, which offers its products at a lower price than the traditional retail outlets.
The drug stores in the U.S. are mainly pharmacy stores with additional refreshments snacks and goods available for sale.
Impact of the Redbook Index on the leading discount and drug companies
Article continues below advertisement
Pharmacy sales are not as highly impacted with the decline in the consumer spending as the sales for discount retailers. The reason being that pharmacy is more of an inevitable expenditure than that of optional discount sales. The Walgreen Company (WAG) is the largest drug retailing chain in the U.S. with a market capital of $65 billion. The company has posted consistent positive same-store sales since the beginning of 2009 with some volatility in the 2012 and the beginning of 2013 quarters.
Discounters such as Wal-Mart Stores (WMT) also posted a decline in the recent same-store sales of November 2013 to January 2014 quarters. Similarly, Target Corporation (TGT), the second-largest discount retailer in the U.S. after Wal-Mart (WMT), also reported a decline in the same-store sales for December 2013 to February 2014 quarters.
An increase in consumer spending would imply that the economy is expanding and vice versa. Other factors remaining constant, an increase in business activity would mean the Fed would continue with its tapering of monthly asset purchases, which would reduce liquidity, raising interest rates on the bonds and causing the bond prices to fall. The reverse would hold true for a decrease in consumer spending.
Some of the leading companies in the space, which move in tandem with the changes in consumer spending include Target Corporation (TGT), Wal-Mart Stores (WMT), Costco Companies (COST), and Fred's, Inc. (FRED).