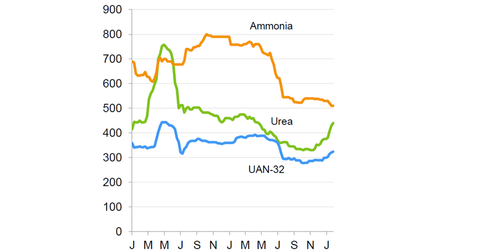 Why ammonia prices will play catchup to urea and UAN prices
By Xun Yao Chen

Updated
Price recovery
Urea and UAN prices recovered towards the end of the year, as several high-cost manufactures in Eastern Europe and China curtailed production. Natural gas curtailments in areas such as Libya, Egypt, and Pakistan also limited urea availability. Prices also rebounded, as China's high export tax season returned in November, while ammonia prices continued to fall.
Weakness in ammonia
Ammonia prices remained weak throughout the fourth quarter because of a shortened fertilizer application window, as a cooler and rainier spring and summer delayed plantation, plant development, and harvests. This meant that farmers bought and used less ammonia than they would have wanted, which led to a weak ammonia pricing environment, as CF Industries noted.
Ammonia to play catchup?
Article continues below advertisement
If weather conditions are favorable for fertilizer application, ammonia prices should rise. For the past five years, urea prices have traded at a premium of $50 per metric tonne compared to what it costs to convert ammonia into urea (1 metric tonne equates to 0.907 short tons). The difference widened to its highest level of $187 per metric tonne on January 27, 2014, but it has narrowed since to $161 per metric tonne as of February 24, 2014. So on a historical basis, ammonia prices are pretty cheap compared to urea.
All else equal, retailers and distributions should find ammonia more attractive than urea. The latest market price data from Mosaic Co. shows that ammonia prices at Tampa, Florida, had risen to $453 per metric tonne on February 21, 2014. This is a significant increase from the $415 seen for the prior week.
Share price driver
While this information is valuable for retailers and distributors, it doesn't really have a strong impact on companies such as CF Industries Holdings Inc. (CF), Potash Corp. (POT), CVR Partners LP (UAN), and Terra Nitrogen Company LP (TNH), because they upgrade a substantial amount of their ammonia into urea, UAN, or ammonium nitrate.
Since fertilizer producers often use forward price agreements to lock in sales in advance, prices reported during earnings calls don't always match movements in market prices. But these differences are minor relative to what fertilizer or coal market prices can do to share prices.