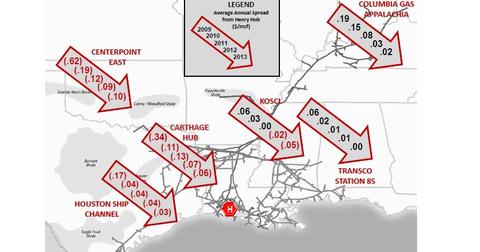 Why greater natural gas production has actually hurt Boardwalk
By Ingrid Pan

Updated
Natural gas production
What Boardwalk is saying is that the difference in natural gas prices between traditional supply markets and traditional consumption markets (such as the Northeast U.S.) used to be greater. Now, with the influx of natural gas coming from the Marcellus and Utica shales, which are located in the Northeast, basis differentials have compressed. This new natural gas production has changed regional supply and demand dynamics.
Plus, the new natural gas production from the Marcellus and Utica has caused production in other areas that were connected by Boardwalk's pipelines, which has caused some of the natural gas that used to flow through BWP's assets to be diverted to other companies' pipelines.
Article continues below advertisement
Boardwalk had much of its natural gas transportation service contracted out. However, as these contracts approach expiration, the company is being forced to renew contracts at much lower rates given the changed natural gas supply and demand environment. Also, any new contracts are signed at lower rates than the company could have bargained for a few years ago.
BWP states in its 10-K:
"In recent periods we have renewed many expiring contracts at lower rates and for shorter terms than in the past, which has materially adversely impacted our firm and interruptible transportation revenues. In light of the market conditions discussed above, natural gas transportation contracts we have renewed or entered into in 2013 and in recent years have been at lower rates, and any remaining available capacity generally has been marketed and sold at lower rates under short-term firm or interruptible contracts, or in some cases not sold at all."
Capacity reservation charges are fees that parties pay to hold a portion of transportation capacity free in order to get their natural gas production to end markets. They pay these fees regardless of whether the capacity is used or not. BWP stated that during 2013, the amount of revenue garnered with capacity reservation charges under firm transportation agreements was $45 million lower than during 2012. Boardwalk commented that it expects this trend to continue, that it may not be able to contract out all of its capacity, and that it may not be able to roll over contracts at attractive rates. This ultimately affects earnings.
To read about other factors affecting Boardwalk's earnings, read on to the following part of this series.