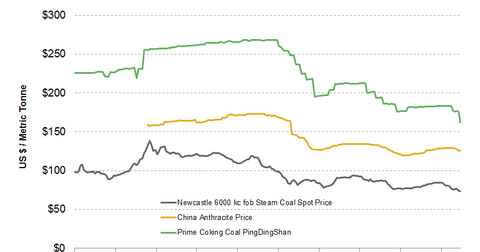 China's coking coal price low of $162.23 could affect urea stocks
By Xun Yao Chen

Nov. 22 2019, Updated 5:42 a.m. ET
Coal prices
Perhaps the recent weakness in coal has something to do with the weak urea prices in China that we discussed in the previous article of this series. As most urea is produced using coal in China—anthracite in particular, nitrogen fertilizer prices are affected by movements in coal prices. If coal prices fall, urea prices should fall too as the cost of production falls. When coal prices rise, however, urea prices should also rise.
Lower prices
Article continues below advertisement
Because coal is primarily used to produce steel and electricity, China's economy has a considerable influence over coal prices. As the country's economic growth slowed, prices have been under pressure for the last two years or so. Coal prices also faced downward pressure when new capacity was added after previous high coal prices and profits drove expansions. The transition from coal to more renewable fuels in the United States or Europe didn't help either.
Coal prices drop
Consequently, steam coal prices from Newcastle, for example, a benchmark price for coal around Pacific Asia, fell ~36% over the period. The average anthracite price in China fell ~$170 per metric tonne to just ~$120 per metric tonne in mid-2013, a drop of 30%, while coking coal in China (PingDingShan) fell ~35%.
Anthracite coal
As we noted earlier, China primarily uses anthracite coal and some thermal coal to produce urea. Anthracite doesn't have the coking property used to produce steel. But because of its purity and high heating value, some quantity of anthracite coal is generally blended with coking coal to reduce coking cost, according to industry sources.
So if they're somewhat substitutes, and nothing else changes, coking coal prices should drive anthracite prices—which appears to be the case based on historical figures. With coking coal prices recently breaking below last year's low of $176.64 per metric tonne to $162.23 per metric tonne as of March 21, 2014, urea prices could be negatively affected. This would affect fertilizer stocks and ETFs such as CF Industries Holdings Inc. (CF), Terra Nitrogen Company LP (TNH), CVR Partners LP (UAN), Agrium Inc. (AGU), and the VanEck Vectors Agribusiness ETF (MOO).