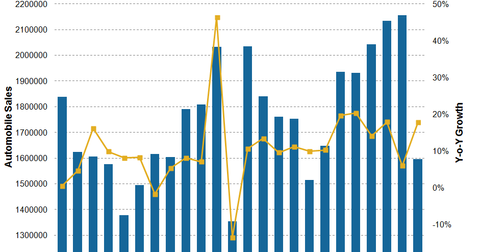 China's auto sales grow 10.7%—twice the 2011–2012 average
By Xun Yao Chen

Updated
Auto sales and oil demand
Since oil is used to run automobiles, auto sales growth affects crude oil demand growth. This, in turn, affects demand for oil tankers used to transport oil across the water. This is particularly important in countries like China, where the majority of people don't have cars, and any marginal sales are largely new vehicle ownership rather than replacements, unlike developed countries.
A robust 2013
Article continues below advertisement
China's automobile sales have been robust since mid-2013. In January, China's auto sales rose 6% year-over-year to an all-time high, with total sales of 2.16 million vehicles. February's data wasn't fantastic, with a mere 1.6 million vehicle. But note that February sales tend to be weak, perhaps because everyone tries to buy a car before the Lunar New Year holiday hits, or the end-of-year bonus encourages people to spend—just as the fourth-quarter Christmas and Black Friday are a big time for people in the United States to shop.
While year-over-year growth in February jumped to 17.8%, keep in mind that China's Lunar New Year this year started around the last week of January, while it was the middle of February in 2013. So February's year-over-year growth figure is slightly higher than usual. Based on January and February's data combined, China's year-over-year growth rose 10.7%. This is certainly lower than previous months, and it's likely driven by the government's initiative to slow car sales in an effort to reduce the country's pollution problem.
10% is still strong
The first two months of data weren't as strong as growth in 2013, and China's main car association currently forecasts growth of just 10% in 2014—about a third short of growth in 2013. But even 10% growth should be enough to support oil consumption growth and oil tankers such as Teekay Tankers Ltd. (TNK), Tsakos Energy Navigation Ltd. (TNP), DryShips Inc. (DRYS), and Frontline Ltd. (FRO) as well as the Guggenheim Shipping ETF (SEA).
Investors be interested to note that 10% growth is more than double the growth seen in 2012 and three times the growth in 2011. Considering that 2012 was a relatively weak period, a growth rate close to 14% this year wasn't going to happen anyways.