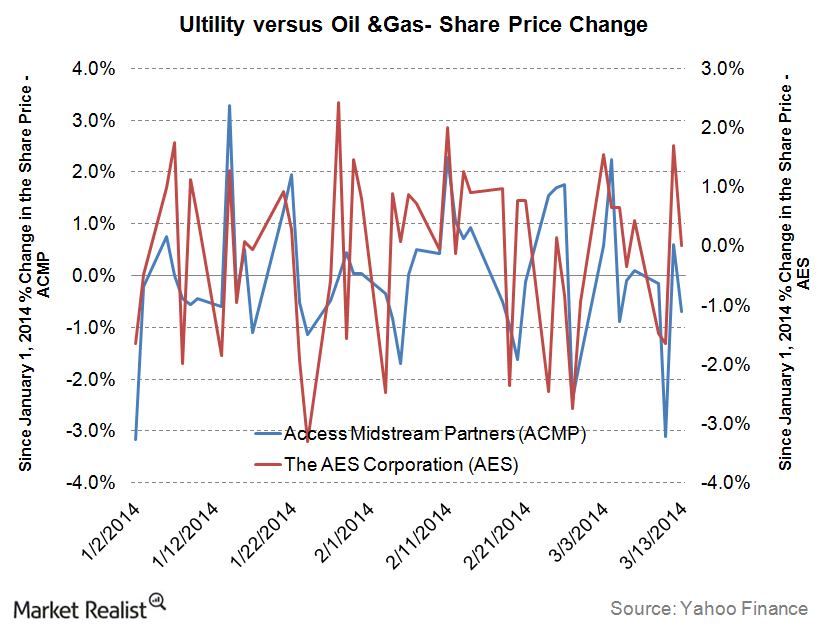 BB-rated bond deals: The AES Corporation versus Access Midstream
By Sandra Nathanson

Mar. 17 2014, Published 5:19 p.m. ET
Utility versus oil & gas
After the Hospital Corporation of America's (HCA) good reception, two giants tapped the market including the fortune 200 company AES Corporation (AES) and Access Midstream Partners (ACMP). Both the companies were in tight end of talks and raised $750 million each. The AES Corporation (AES) with a market capitalization of $10 billion is a global power company. The company placed a $750 million issue of ten-year (non-call five) senior note at the tight end of 5.5% to 5.6% talk, at par. The bond issued will add to the company's current debt profile of $21.1 billion. The company has also posted strong fundamental growth with the earning per share of $1.29 for the full year 2013, higher than analysts expectations.
Article continues below advertisement
Access Midstream (ACMP), is the U.S.-based midstream natural gas services provider. The company initially tapped the high yield bond market to raise $600 million of ten-year (non-call five) senior notes. However, backed by the strong demand, the deal was upscale to $150 million and priced at 4.875% at par, which was tighter than whispers. The company plans to use the proceeds for the general corporate purpose. Access Midstream (ACMP) has posted its 2013 full year adjusted earnings before interest, tax, depreciation and amortization (or EBITDA) of $859 million, which was 79.7% higher than the 2012 full year adjusted EBITDA of $477.9 million. The company has substantial assets in the Marcellus shale and Eagle ford, sweet spots in the natural gas industry.
Pipeline ahead indicates higher M&A
The forward looking calendar looks strong from M&A perspective. Of the 16 high yield bond (JNK) deals announced for next week, only two deals were in the refinancing space, while the remaining 14 deals were for M&A and LBOs (leveraged buyouts). The biggest deals to watch for will be AerCap Holdings N.V. (AER) and Crown Castle International (CCI) deals, which are expected to transact $2.7 billion and $3.4 billion M&A deals.