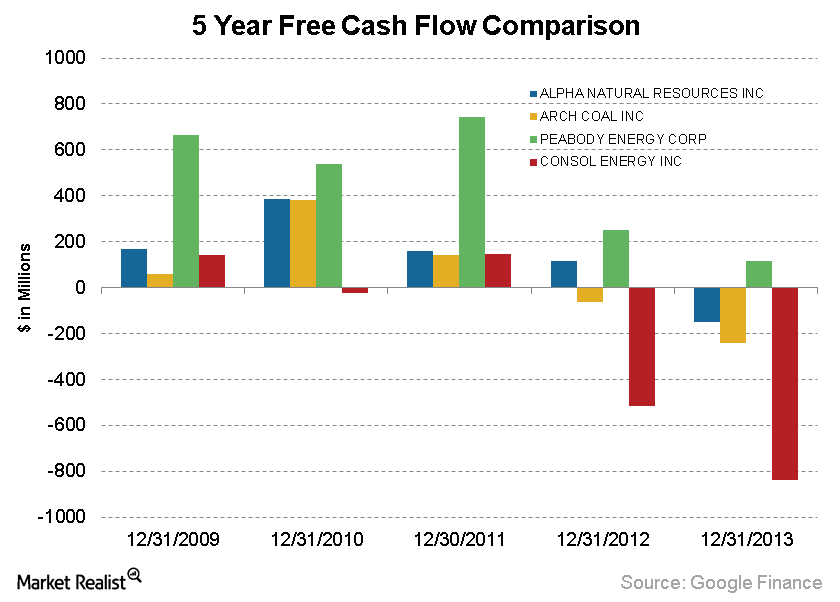 Alpha Natural Resources: An analysis of its financial ratios
By Jing Shun Kee

Mar. 31 2014, Published 5:00 p.m. ET
Does ANR have enough liquidity?
Note that the graph given below is based on non-adjusted EBITDA which does not include the goodwill impairment charges faced by Alpha. The company's 2013 net debt to adjusted EBITDA multiple would be 8.27 instead of the 27.35 listed on the chart. Comparatively, Alpha has a much higher Net debt to EBITDA ratio compared to Arch Coal (ACI), Peabody Energy (BTU), and Consol Energy (CNX).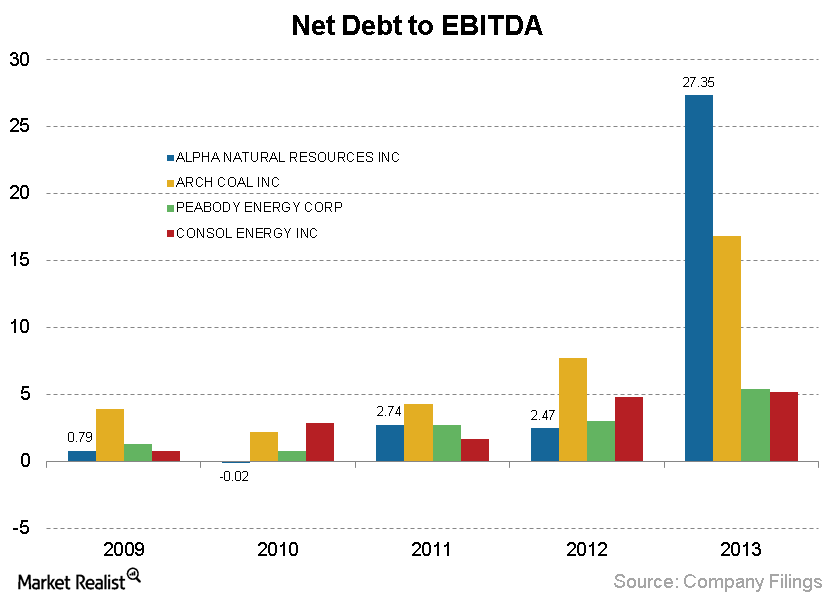 Article continues below advertisement
It is still worrisome that Alpha's adjusted EBITDA has risen almost 4 times from 2012's 2.19 multiple. This rise can be attributed to lower average realizations and lower shipments of both metallurgical and steam coal. Looking into the details, the drop in EBITDA is also attributable to the one-off non-cash charges of over $532 million in the fiscal year 2013.
In this expected weak market, the management team at Alpha has done well to maintain a healthy liquidity balance of $1.9 billion as of 4Q 2013. Of that amount, about $1 billion is in cash or securities equivalent, and the company has also extended all debt maturities till 2018. So, the company is able to use the spare cash to tide over the weak coal market conditions and position itself at an advantage should the coal market rebound.
Short interest and free cash flow
There has been a gradual increase in its short interest over the past year, with the company recording around 24% of the float as of February 28, 2014. Overall, companies in the coal industry have faced very negative outlooks from many analysts.
One very worrying outlook is Alpha's free cash flow. From 2009 to 2012, Alpha managed to maintain a positive free cash flow despite having negative earnings. However in 2013, it generated negative free cash flow. This is particularly worrying as Alpha has not been making any large investments into improving its asset base. A negative free cash flow is not always a negative sign as it could just point to the company spending more to expand its operations. If we were to look at Alpha's capital expenditure in 2013, it actually spent substantially less as compared to 2012. The next part contains a chart on the company's capital expenditure.