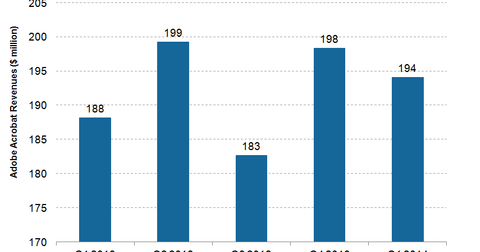 Adobe looks to boost Acrobat business through EchoSign adoption
By Puneet Sikka

Mar. 24 2014, Published 5:24 p.m. ET
The Digital Media segment makes the highest revenue contribution
Earlier in the series, we had discussed that Adobe's (ADBE) business segments are Digital Media, Digital Marketing, and Print & Publishing. Adobe recently announced the 1Q 2014 earnings that the Digital Media's contribution toward revenue was 64% of the company's overall revenue. The Digital Media segment consists of the Creative Cloud business and Document Services business, which is essentially the Acrobat family of products. Acrobat family consists of products such Acrobat Reader, Writer, EchoSign, and FormsCentral and competes with Microsoft's (MSFT) Office line of products in this segment. We have earlier talked about Creative Cloud and how Adobe is trying to shift its focus towards providing cloud offering to its customers. Here we will talk about how its Acrobat family business is performing.
Acrobat family performance
Article continues below advertisement
As shown in the above chart, Adobe has not been able to grow its Acrobat family of products revenues primarily due to the launch of Acrobat cloud services, for which the subscription fees is spread over a time period. However, another key metric that needs to be closely seen is the Annualized Recurring Revenue (ARR) for Acrobat business. ARR is the combined value of Annual Acrobat Enterprise Term Licensing Agreements (known as ETLAs), Acrobat Cloud, and EchoSign services. EchoSign is an electronic document signing mechanism focusing on document management and verification life cycle.
During the conference call to announce 1Q earnings, the management mentioned that Document services ARR grew from $143 million in Q4 2013 to $164 million in Q1 2014, the benefit of which should be visible in the future. Shantanu Narayen, Adobe's President and Chief Executive Officer mentioned that its EchoSign adoption continues with brands including Citrix (CTXS), Electronic Arts (EA), Kia (KIMTF), NEC Financial Services, and UC Berkeley using its eSignature platform.
Narayen said, "In Document Services, Acrobat continued to achieve solid performance, with online document services continuing their momentum. EchoSign adoption continues, with brands including Citrix, Electronic Arts, Kia, NEC Financial Services and UC Berkeley using our eSignature platform. Combined with Acrobat ETLAs, Document Services ARR grew to $164 million exiting Q1. Between our Creative and Document Services businesses, total Digital Media ARR grew to $1.15 billion at the end of Q1."