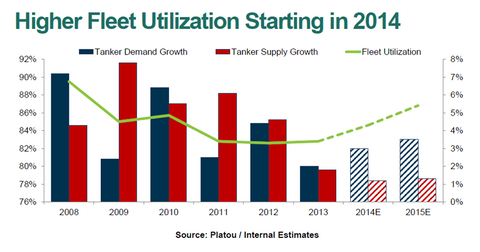 1 key chart to take away from Teekay Tankers' latest earnings call
By Xun Yao Chen

Mar. 10 2014, Published 4:00 p.m. ET
Tankers rally
After falling along with the Baltic Dirty Tanker Index, the next time Teekay Tankers Ltd. (TNK), Frontline Ltd. (FRO), Tsakos Energy Navigation Ltd. (TNP), and Nordic American Tanker Ltd. (NAT) would likely rally is when the Baltic Dirty Tanker Index turns up. Rates have been falling at a slower pace over the past few weeks, which might suggest a potential bottom soon.
Fleet utilization tightens
Shares have climbed a bit since February 20, 2014, after Teekay Tankers beat estimates and several Wall Street analysts had upgraded most crude tanker stocks. If there's one chart investors should take away from the company's presentation, it's fleet utilization.
As we noted earlier in this series, when fleet utilization is high, shipping rates tend to be more volatile. So if fleet utilization is expected to rise in 2014 and 2015, given low supply growth and higher demand growth, shipping rates in 2014 should improve from 2013.
Here's an interesting thought. Why did the Baltic Dirty Tanker Index continue to fall over the past few years when fleet utilization hasn't really changed based on the chart above? To answer that question, let's go back to the hypothetical supply and demand curve.
New supply
Article continues below advertisement
Fleet utilization could stay constant, but shipping rates could fall as new ships enter the market and companies scrap older vessels. As this happens, the industry's fleet becomes younger. The supply curve shifts to the right as industry capacity grows (the blue and green lines), while demand growth supports fleet utilization. But the overall cost of operating a tanker would fall given the relative youth of fleets. So even if fleet utilization stays the same, shipping rates could still fall. But as demand starts to outpace supply and the overall industry's fleet age rises after new deliveries slow, over the next few quarters and years, we should see rates improve.
So how can we expect supply to pan out in 2014? See the next part of this series to learn more.