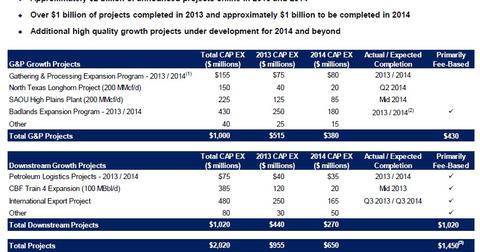 Targa Resources increased its 2014 capex and EBITDA guidance
By Ingrid Pan

Updated
2014 capex and EBITDA guidance
Targa also increased its 2014 growth capex guidance from $590 million to $650 million, indicating that it has identified and approved several development projects that it will undertake, including the construction of a new pipeline in the Permian Basin in West Texas, along with associated natural gas compression, dehydration, and treating facilities. Also recently approved was a new plant in North Dakota in the active Bakken play. Generally, the more capex projects that a midstream company has lined up, the better, as these projects represent a path towards growing revenues and the ultimate worth of the company. For the year, Targa expects maintenance capex of $90 million.
Article continues below advertisement
Targa also provided 2014E EBITDA guidance of $750+ million, which was revised from an estimated range of $740 million to $760 million. Management noted that the EBITDA guidance didn't include any potential earnings from exports of propane or butane on a spot basis. Targa exports most of its propane and butane on a contracted basis, although it provides some of these services as "spot" or on-demand. Given that guidance doesn't include the benefit of spot exports, EBITDA is likely to be higher for this fiscal year.
The company also guided to distribution growth of 7% to 9% at the partnership level in 2014. The above graph shows Targa Resources' historical distributions.