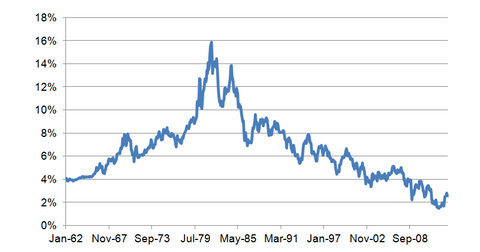 Recommendation: AGNC is buying REITs because they're so cheap
By Brent Nyitray, CFA, MBA

Feb. 12 2014, Published 12:00 p.m. ET
American Capital Agency (AGNC) reported earnings last week
American Capital Agency is one of the biggest Agency REITs in that it invests in securities backed by mortgages that are guaranteed by the U.S. government. The REIT sector has been having a rough go of it, but it has had a bit of a respite as emerging markets fears have dominated and the REITs have had a chance to de-leverage. American Capital Agency announced that it has been buying the stocks of its competitors, which should imply that the stocks are cheap. Should investors bite?
Don't forget the macro picture
Article continues below advertisement
While rates may be backing and filling a bit here, the ultra-low rates of a year ago are probably not coming back in our lifetimes. As the Fed continues to taper, mortgage-backed securities will lose some of their bid in the market. And while the Fed isn't raising short-term interest rates yet, it will eventually. While REITs like American Capital Agency may be able to be nimble, and trade in and out of these stocks, that is difficult to do. American Capital Agency cut its dividend again, from 80 cents to 65 cents. A year ago, it was $1.25.
Stick with credit risk, not interest rate risk
REITs like Annaly (NLY), American Capital (AGNC), MFA Financial (MFA), Capstead (CMO), and Hatteras (HTS) are in a much better place as far as leverage than they were six months ago. That said, agency REITs have 100% interest rate risk, and this isn't a hospitable environment for them.
In this environment (increasing interest rates and a stronger-than-expected economy), it makes sense for income investors to focus on the non-agency REIT space—think names like Two Harbors (TWO) and Newcastle (NCT). While they have interest rate risk, they have less of it than the big agency names, and they benefit from improving credit. The agency REITs will be at risk from a Mel Watt FHFA as well, as prepayment speeds will probably increase—especially if the government extends the eligibility dates for HARP (the Home Affordable Refinance Program). That said, Mel just threw the originators a bone by delaying Ed Demarco's planned increases in conforming loan level pricing adjustments. On the other hand, this means higher prepayments at the margin for agency REITs.