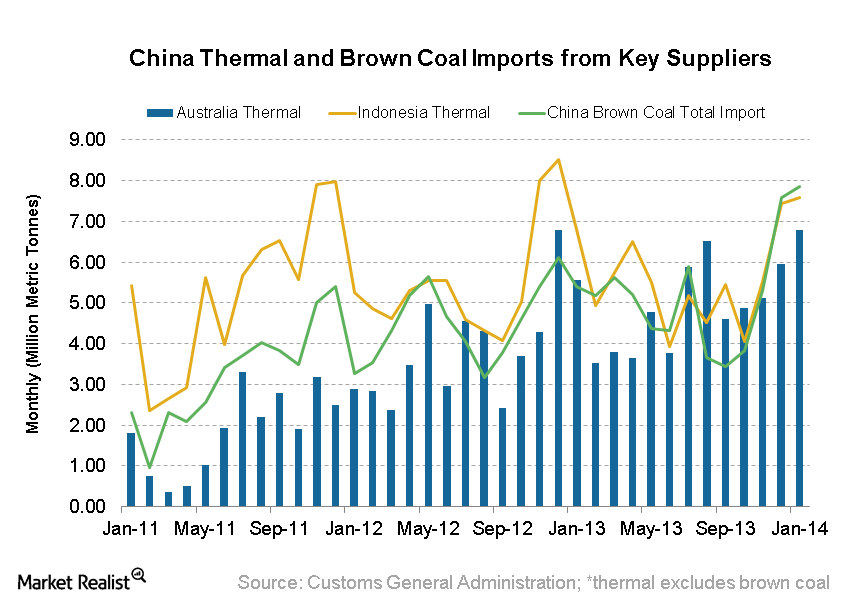 A pollution problem will support seaborne coal trade from Australia
By Xun Yao Chen

Feb. 26 2014, Published 4:00 p.m. ET
Coal
According to Diana's earnings call, Clarksons predicts that 2014 world seaborne imports of coking coal and thermal coal will increase by 5% and 4%, respectively. Coking coal is used to primarily produce steel, while thermal coal is used to generate electricity.
Pollution
China imports the majority of its low-rank coal from Indonesia. Since last year, China has discussed whether to ban or restrict imports of low-grade coal with low calorific values as well as high ash and sulfur contents. Low-rank coal such as lignite, or often referred to as "brown coal," is worse for the environment than higher-rank coal because they release more sulfur, ash, or volatile matters when used. Whether the ban will affect trade is debatable, because Indonesia could be excluded from the law as part of the free trade agreement.
Article continues below advertisement
Whether low-rank coal from Indonesia will be banned or not, China will have to find alternative sources of higher-rank coal and could become more reliant on countries such as Australia if pollution limits are enforced. Perhaps this has already been happening: thermal coal imports from Australia have risen at a faster pace than brown coal from Indonesia over the past two years. In 2013, China's thermal coal imports from Australia rose 27%, while brown coal imports only grew 11.35%.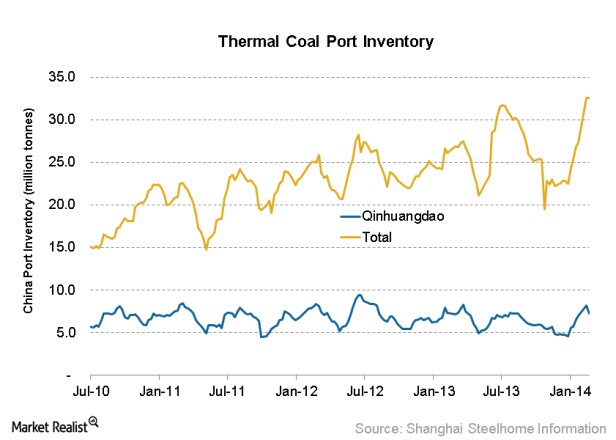 Inventory level
Although Diana noted some concern regarding the high coal stockpile in Qinhuangdao, China's largest coal port, it's important to consider that inventory levels tend to peak in January or February. Coal shipments tend to rise and peak in the fourth quarter, when China prepares for its cold winter. Shipments also show seasonal strength during the fourth quarter, because of Chinese New Year and the possibility of lower supply from countries such as Australia. So, although inventory levels are elevated, they should come down. Besides, the weakness that started off in January reflects this outlook.
Coal imports should rise again when China prepares for the hot summer in about a month. Shipments should also rise as mining companies in Colombia are able to meet export requirements that were newly set by the government, starting around March, according to Navios Maritime Holdings Inc. (NM).