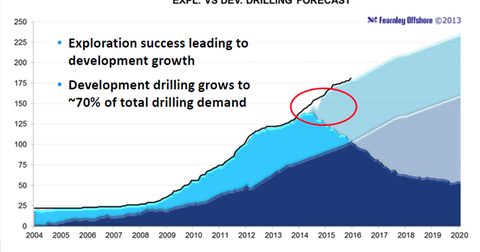 Noble echoes Transocean on a soft short-term outlook for floaters
By Xun Yao Chen

Updated
A cyclical pause
While earnings beat, Noble Corp.'s (NE) management gave a dim outlook for floaters—at least for the first half of 2014. Management paraphrased the current state of the industry as "entering a cyclical pause." Upstream spending—which includes the expenditures that exploration and production companies make in order to explore, develop, and produce oil—is expected to grow in 2014. However, spending growth is expected to be slower compared to the past three years—which stirred an inflationary environment.
Article continues below advertisement
On a relative basis, tendering activity (when companies bid to provide service) was lower than 12 months ago. At the start of 2013, 22 jobs were needed to employ contract rollovers (contracts that were to expire) and newbuilds that were expected to be delivered throughout the year. Almost all of them were employed in 2013.
Slowdown in tendering activity
However, Noble estimates that 38 rigs that don't have contracts for further employment are scheduled to be delivered in 2014 or will roll off from existing drilling contracts. To maintain full employment in the ultra-deepwater fleet in 2014, demand must grow by about 8% to 10% year-on-year. But since there appears to be a pause in "bidding opportunities," utilization is expected to fall, and some high-spec ultra-deepwater rigs are expected to take assignments with lower specifications.
Echoing Transocean's investor day
This isn't really new information. Transocean Ltd. (RIG) had pointed out in its recent investor day, held in November 2013, that a large number of fleets would enter the market in 2014, while demand would remain a bit soft. In part, Transocean is seeing delays in West Africa due to some government sanctioning and approvals. It also noted increases in farmouts—agreements under which the owner with a working interest in a natural gas and oil lease gives a portion of or all working interest to another party in exchange for specified exploration or development activity, while the owner retains overriding royalty or other kinds of economic interest in the production. Essentially, this results in lower incremental demand for offshore rigs.
Barclay's research team also noted softness in Brazil for 2014. Brazil is primarily a deepwater-plus market. Petrobas is trying to lower leverage and "attempts to better balance spending and cash flows."