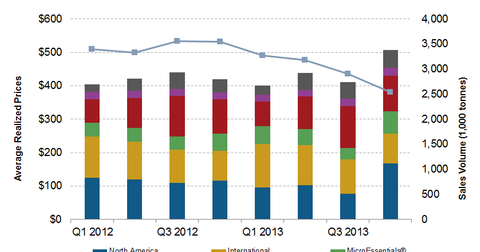 Mosaic's phosphate sales hit a record, due mainly to North America
By Xun Yao Chen

Updated
Sales volume
During the fourth quarter, Mosaic Co. (MOS) sold 3,381 thousand tonnes of phosphate-based fertilizer—the company's highest quarterly sales in history. But it's important to note that this record was mainly driven by sales in North America. In the international market, sales weren't as strong, dropping from 677 million tonnes in the third quarter to 590 million tonnes. On a year-over-year basis, international sales remained mostly the same.
Article continues below advertisement
While Mosaic Co. had a record sales volume quarter, gross margin fell from 14% in the third quarter to 12% in fourth quarter of 2013, negatively affected by declining average realized prices. Realized prices on DAP (diammonium phosphate) fell sharply from $436 a tonne in the third quarter to $381 a tonne in the fourth quarter.
Phosphate price rally
Prices of phosphate fertilizers, however, have rallied since finding a bottom in December. In mid-December of 2013, the price for a short ton of DAP at the Corn Belt was $397, according to Green Markets. That has risen to $500 a ton by February 17, 2014, marking a 25% jump. Based on Freight Investor Service, prices of DAP at Tampa, Florida, have rallied more than 40% since bottoming just below $350 a tonne in November, 2013.
According to Mike Rahm, vice president of market strategic analysis at Mosaic Co., the combination of "continued positive demand prospects, a lean distribution pipeline [low inventory levels], and several small planned and unplanned production outages has tightened the market and changed sentiment overnight."
Short-term positive with legs?
Investors should keep in mind that it's unlikely for North American buyers to repeat such large quantities of purchases when the inventory level normalizes. Still, fertilizer dealers and buyers have delayed purchases and kept lean inventories over the last few quarters on the expectation that prices would fall further. These deferred purchases can translate into sudden surges in purchasing activity, when phosphate prices reverse their course, driving phosphate prices even higher. Whether this is sustainable over the long term is another question.
On the supply side, Mosaic Co. sees the phosphate industry already producing at "near practical capacity." Further increases in production capacity are unlikely. However, it's noteworthy that North African producers have had a hard time moving phosphate out of the region due to "serious North Atlantic storms" that have helped push phosphate prices up. Phosphate prices could be negatively affected when the storm starts to clear in April.