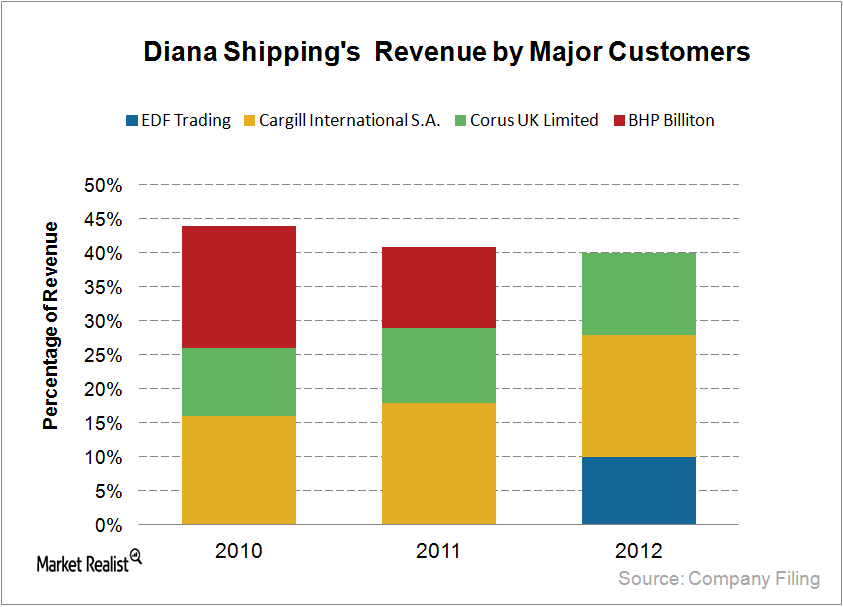 Diana Shipping's key operating factors and primary customers
By Yanyu Mao

Nov. 26 2019, Updated 10:23 p.m. ET
Diana Shipping's competition
As a brief overview without going into too much detail, the marine shipping industry is characterized as capital-intensive and highly fragmented. Competition arises from other vessel owners. It's also a commoditized industry, where companies primarily compete on prices.
Price-sensitive customers plus relatively low switching costs make competition extremely fierce in the dry bulk shipping industry. In Diana's case, keeping a low operating cost while ensuring high-quality service is essential to the company's survival and success. We'll discuss more about this later in this series.
Primary customers
Article continues below advertisement
Diana Shipping's customers include national, regional, and international companies, such as Cargill International S.A., BHP Billiton, Corus UK Limited, and EDF Trading Ltd. According to its annual report, during 2012, three of Diana's charterers accounted for 40% of its revenue. These top customers are Cargill International S.A, Corus UK Limited (12%), and EDF Trading (10%). Although the percentage of revenue attributable to top three customers has slightly declined from 2010 to 2012, dropping from 44% to 40%, the four companies mentioned above remain Diana's primary customers.
Having high exposure to a few large players could be negative for Diana Shipping. On the one hand, Diana Shipping has little competitive advantage in negotiating shipping rates. On the other hand, if other dry bulk shippers also depend on these large players, the industry is facing a great amount of buyers' power.