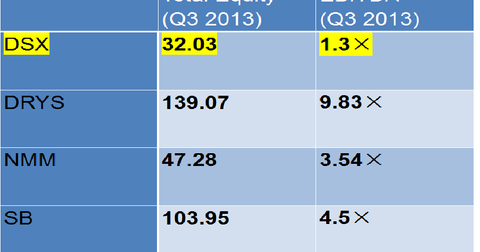 Diana Shipping is leveraging up: Should it take on more debt?
By Yanyu Mao

Nov. 26 2019, Updated 10:26 p.m. ET
Recent news: Diana Shipping is leveraging up!
On January 23, 2014, Diana Shipping Inc. announced that it has completed a drawdown of $18 million, through two separate wholly owned subsidiaries. Under a term loan facility, it signed for up to $18 million with Commonwealth Bank of Australia. The proceeds will be used to partially finance the acquisition costs of two Panamax dry bulk vessels as well as the m/v "Melite" and the m/v "Artemis," which were delivered to the company on January 28, 2010, and August 26, 2013, respectively.
After entering this new loan term, Diana Shipping will have increased its debt leverage ratio (total debt to total assets) to up to 50% (compared to 30% in the third quarter of 2013).
Article continues below advertisement
The new loan is perhaps a positive sign, in that Deutsche Bank is now urging investors to accumulate shares of Diana Shipping, because they believe it is well capitalized. The bank raised Diana Shipping's price target to $15.00, which represents an increase of $2.00 because of its combination of solid 2014 contract coverage and exposure to an improving market through the re-chartering of current vessels and acquisitions.
Peer comparison: Total debt to total equity and net debt to EBITDA
Some investors might wonder how such a leverage ratio looks compared to other companies in the shipping industry, since this industry has a conventionally high level of indebtedness. In this case, net debt–to–EBITDA may be the most useful ratio for investors, because it takes into consideration companies' cash positions. So it captures companies' leverage abilities more accurately.
As listed in the table above, Diana Shipping's current leverage ratio looks pretty good in contrast with its peers', mostly owing to its large amount of cash on hand. Backed up by its current low level of indebtedness and a strong cash standing, it's relatively safe for Diana Shipping to take a new loan at this time.