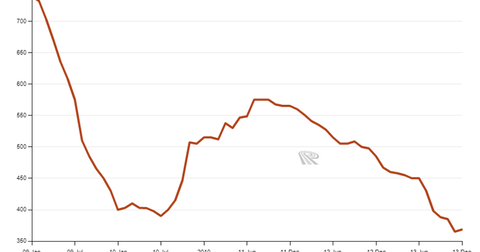 Despite lower guidance, value investors watch potash price bottom
By Xun Yao Chen

Nov. 22 2019, Updated 5:33 a.m. ET
Potash price is bottoming
On January 20, 2014, Uralkali entered a contract to sell 700,000 metric tonnes of potash to China—widely viewed as the benchmark for international prices—at a price of $305 a tonne. A contract price of $305 a tonne is 24% less than what Uralkali and Belarus had marketed until July last year, before Uralkali broke away from the joint marketing venture.
However, this was above the $300 per tonne that was speculated in early January 2014, based on a Reuters article. As Oleg Petrov, director of sales and marketing at Uralkali, commented, "The contracts between Uralkali and the Chinese companies clearly testify to growing demand and the beginning of market recovery."
Article continues below advertisement
In its latest earnings call, Potash Corp. (POT) said, "We'll realize higher netbacks as prices in every single spot offshore market have rebounded off the lows that we saw in the second half of 2013." Certainly, the layoff that the company had announced in December to reduce operating capacity and soak up competitive pressure among peers could have contributed.
Share buyback
Based on the view that potash is "extraordinarily cheap" and that the market is improving, Potash Corp. expects to pick up purchasing activity in the remaining two months of the quarter. At the close of 2013, the company had purchased roughly 33% of the anticipated total $2 billion buyback program.
The question that remains is just how high and when potash prices and stocks will climb. Without soaring crop prices (not yet), POT, MOS, IPI, and SQM won't likely skyrocket. While Potash Corp.'s guidance missed Wall Street's estimates, which contributed to Potash Corp.'s initial sell-off, the company's forward PE has risen to above 20x. This level has historically preceded share price appreciations—a sign that the market is expecting better times ahead.
An ideal situation
A combination of stronger potash demand in countries such as China and India and higher crop prices will set up an ideal base for potash stocks to rally. But crop prices can move fast—especially if driven by supply shocks. Even if the ideal situation might not occur, the company currently pays a dividend yield of 4.15%—higher than the S&P 500's 1.82%. Long-term value investors were probably scooping up shares when POT initially fell ~5% on January 30, 2014.