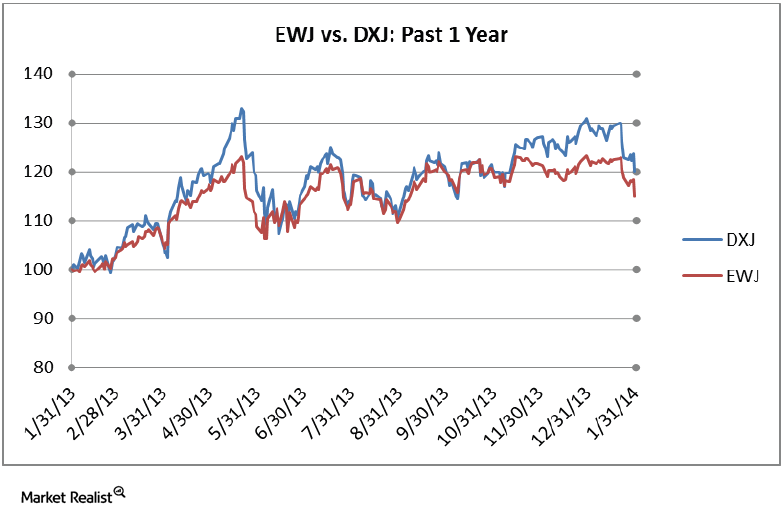 Currency-hedged ETFs: Focus shifts to emerging markets
By Aniket Ullal

Nov. 22 2019, Updated 5:10 a.m. ET
In last month's report we examined currency-hedged ETFs and the significant difference in currency-hedged versus currency-unhedged returns in some markets such as Japan. We argued that using ETFs to hedge international equity exposure against currency declines is a legitimate strategy, but that yen's historic decline in 2013 may have magnified the benefits of currency hedging. In this report, we revisit this with numbers updated through January 2014.
The benefits of hedging against a depreciating yen reversed in January 2014
Article continues below advertisement
In calendar year 2013, the currency-hedged Japan ETF (DXJ) significantly outperformed the local currency Japan ETF (EWJ) with a total return of 37% versus 23%. The year 2013 was a historically a bad year for the yen, so hedging against a falling yen was a very effective strategy. In January 2014, the yen appreciated against the USD, reducing the return differential between the two strategies over the trailing 12 months. This should not be surprising. Over long time periods, currency pairs move in both directions, and as expected, there have been periods where EWJ has outperformed DXJ, as we see in the charts.