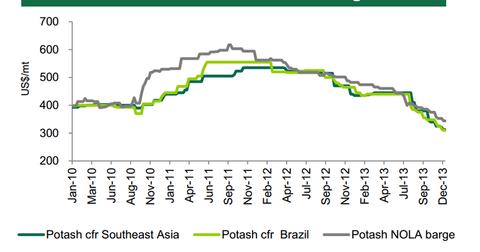 Why Uralkali's potash contract rumor is more than just speculation
By Xun Yao Chen

Updated
Golden days for Potash producers
Things are looking good for potash producers as of January 14 and 15, 2014. While an optimistic stock market contributed to a rise in stock prices, stocks like Potash Corp. (POT), Mosaic Co. (MOS), Agrium Inc. (AGU), and Intrepid Potash Inc. (IPI) jumped on rumors and speculation that Uralkali would be asking for higher potash prices—a move that could kick-start higher potash and share prices. The VanEck Vectors Agribusiness ETF (MOO) also outperformed the S&P 500 for the two-day period.
Uralkali's negotiated price
Article continues below advertisement
While Uralkali declined to comment on the negotiations, J.P. Morgan analysts said that Uralkali was signaling that Brazilian buyers will pay $350 to $360 a ton—including costs to transport to a named destination port—for March volumes, according to Reuters. This is up from the current $320 per ton. Uralkali could also sign a contract with China for a quoted price of $300, which could set a price floor, according to Renaissance Capital. Analysts and industry experts often view this contract with China as the benchmark for all other buyers.
Speculation of supporting prices
J.P. Morgan also noted that it has seen the first clear evidence of Uralkali's return to the price-over-volume strategy, speculating that the company has joined Canpotex (the international potash selling arm of Canadian producers) to keep prices above $300 per tonne, equivalent to $272 per ton. If Canpotex does sell potash to China for $300 a tonne, it could suggest the bottom for potash producers.
Believing in sound fundamentals
As we write, potash prices in Saskatchewan, Canada, have fallen to a new low of $315 per metric tonne, $285.71 per ton, FOB (not including transportation costs). While some might just take this as a rumor, and we could see stocks fall once the news is out (buy the rumor, sell the news), we believe there's real fundamental support behind the speculation. These potash companies and the VanEck Vectors Agribusiness ETF (MOO) are likely to do well in 2014 following two years of underperformance and negative returns.