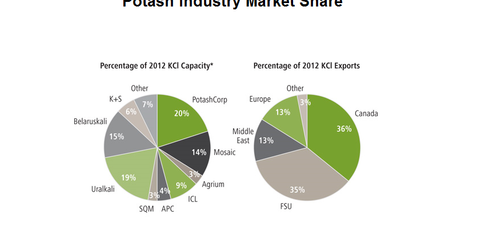 Why are people talking about Belaruskali and Uralkali?
By Xun Yao Chen

Updated
Uralkali's surprise
Potash companies like Potash Corp. (POT), Mosaic Co. (MOS), Intrepid Potash Inc. (IPI), and Agrium Inc. (AGU) all fell on the day as news broke that Uralkali would break away from the Belarusian Potash Company (the international potash selling arm of Uralkali and Belaruskali). The market priced in Uralkali's comments that prices could fall below $300 a ton.
Oligopoly
The breakup between Uralkali and Belaruskali in mid-2013 had many investors wondering whether potash companies would still be able to earn the high profits they once had.
Article continues below advertisement
As we discussed in our potash business overview, the economical production of potash is dominated by countries like Canada, Belarus, and Russia. Add the fact that potash is a global business, with 74% of shipments going to the export market, and international potash supply was largely controlled by Canpotex (the selling arm of POT, MOS, and AGU) and the Belarusian Potash Company.
This means the potash industry is an oligopoly, where a few players make up a large portion of industry supply. Because there are fewer players, companies operating in an oligopoly are better able to coordinate with each other to set prices and supply in order to maximize industry profits rather than just their own revenues.
High profitability
Potash companies' high operating margins (shown previously in this series) are evidence of this trend. While the S&P 500′s operating margin is just ~14%, potash companies all have higher margins. These are based on the last 12 months of data amid falling prices. Note that Uralkali and Intrepid Potash Inc. (IPI) are the only pure-play potash producers.
Has coordination faltered?
As long as players coordinate with each other, suppliers can adjust production and set prices at levels that will earn them the highest economic profit. If suppliers don't coordinate with each other, each firm will try to increase production—because another competitor will take what it doesn't produce. This will drive supply up and prices down. Profit margins will then fall.
Certainly, if Uralkali and Belaruskali fell out, investors worried that the players' coordination would fall apart. Uralkali's new strategy of focusing on volume over price—considered irrational by Canadian producers—contributed to fears of long-term lower profits ahead (even though this isn't really the case, in our view).