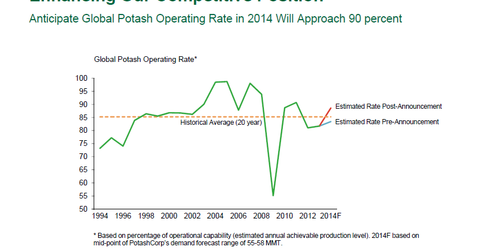 Why the operating rate will rise up to 90% with POT's layoffs
By Xun Yao Chen

Updated
Effect on operating rate
As a result of labor layoffs and cuts in operating capacity, Potash Corp. (POT) estimates that global potash operating rate would increase to near 90%, rather than to ~85% in 2014.
Operating rate reflects the amount of production that companies undertake as a percent of available operating capacity. The metric is often used to indicate competitiveness within an industry. When demand is low, companies will often produce fewer products. But this is a reaction to low demand rather than a move to increase prices. When demand is weak or falling, hand-to-hand competitiveness increases as companies try to sell goods in order to cover fixed costs. In Potash Corp.'s (POT) case, labor could be considered a temporary fixed cost.
Relation with share prices
Article continues below advertisement
Interestingly, operating rate may affect the share prices of agriculture firms like POT, Mosaic Co. (MOS), Intrepid Potash Inc. (IPI), and Agrium Inc.'s (AGU) potash business more. For example, when operating rate fell sharply in 2008 and early 2009, these companies sold off. While potash prices continued to fall throughout much of 2009 and early 2010, operating rate rebounded on improving global economic activity and demand—and share prices also followed. So if this relationship still holds true, we could see higher share prices sometime in 2014.
Reaction to Uralkali's move
POT's move to curb production is likely a reaction to Uralkali's recent move of using a more balanced strategy, controlling fair prices and production. In one of the company's presentations, Uralkali showed that it switched its strategy from one just maintaining prices because the industry has become more competitive over the years. As Uralkali wasn't aggressive enough with pricing, Canpotex—the international selling arm of Potash Corp., Mosaic Co., and Agrium Inc. (AGU)—gained market share. We might even say that Uralkali's strategy shift was a message to Canpotex to do its part of controlling production and supply, to maintain prices.