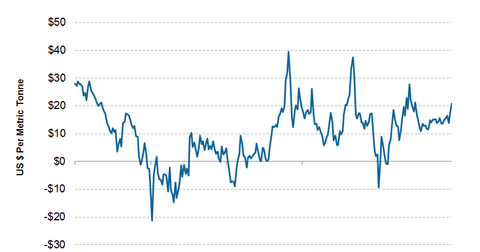 Why commodity prices and price arbitrage affect dry bulk trade
By Xun Yao Chen

Updated
Commodity prices
Commodity prices are often said to have a strong correlation with economic activity: when economic activity picks up, higher demand will push prices up, since producers can't increase capacity as fast. So when prices a rising, dry bulk shipping companies and the Guggenheim Shipping ETF (SEA) should benefit.
Read beneath the headlines
However, as we briefly implied in the last article in this series, lower prices could still be positive for dry bulk shippers, and investors shouldn't only look at the "headlines" of price movements. When prices are falling because of weaker demand, fewer vessels will be employed. But when prices are falling more due to substantial increases in capacity or supply, low prices should have a positive impact on shipping demand. On the flip side, investors must also recognize that higher commodity prices could be driven by supply shocks. Since these shocks reduce the amount of transportable iron ore and coal, shipping companies lose out.
The impact of arbitrage
Article continues below advertisement
More importantly, dry bulk imports are affected by global differences in prices. Due to proximity, prices for domestic iron ore or coal should be at least the same as imported seaborne prices. However, seaborne prices could be lower than domestic iron ore prices even after adding ocean freight expenses due to supply and demand imbalances.
In 2013, a weaker Indonesian rupiah and Australian dollar created an attractive environment for already low-cost producers to continue increasing supply. Long-term agreements with rail and ports to move these dry bulks meant producers would have to pay these expenses either way. So they were willing to produce additional iron ore and coal—even at a discount to China's domestic producers. The cheaper seaborne prices made it attractive for steel mills, utility companies, and traders to import iron ore and coal.
Ultimately, though, what drives shipping companies' revenues are shipping rates. The next article in this series will cover this in more detail.