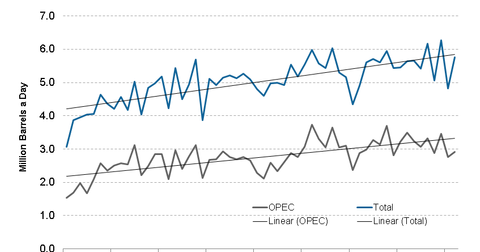 Why China's 2014 oil imports should recover from 2013's hangover
By Xun Yao Chen

Updated
China's crude oil imports
Aside from improvements in global economic activity and industrial production, China could recover from a hangover in 2013. While domestic activity slowed throughout 2011 and 2012, the country continued to import oil for strategic stockpiling initiatives. As a result, oil imports didn't grow as much we hoped in 2012 (see below).
Weak 2013
For the last few years, China's oil imports from OPEC nations have hovered just above 3.0 million barrels a day. In November 2013, China imported 2.9 million barrels of oil a day. Note that import data often lags movements in shipping rates because shipping rates rise and fall on changes in export volume and demand for tankers. Plus, figures on China's oil imports lag by roughly a month. In 2013, China's oil import grew at 4.08%, trailing the prior three years' average of roughly 10%,
A more upbeat 2014
Article continues below advertisement
According to a recent Reuters article, CNPC (China National Petroleum Corporation) is forecasting China's implied oil demand to expand quicker in 2014, to around 4.0%—up from the weakest growth we've seen in 2013. A large part of this expansion will support crude imports because China's domestic crude oil production is only expected to rise 2.2%, while several refineries are expected to come online. As a result, China's net crude imports are expected to climb 7.1%, to 5.96 million barrels a day. Since China doesn't really export crude oil, you could say most of this growth will further drive crude oil shipments from the rest of the world to China.
An upbeat year for tankers
While the IEA's (International Energy Agency) forecast of 3.7% trails CNPC's 4.0% growth in oil demand, it nonetheless suggests a more positive outlook for companies with tanker operations and the Guggenheim Shipping ETF (SEA).