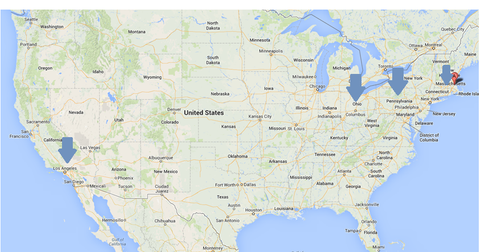 Why in-house brewing gives Boston Beer Company more control
By Xun Yao Chen

Updated
Brewing process
Boston Beer Company brews about 90% of its core brand products in-house. These are located in Breinigsville (Pennsylvania), Cincinnati (Ohio), Boston (Massachussets), and Los Angeles, California. The company segments these breweries based on product lines.
Pennsylvania and Ohio
The Pennsylvania and Ohio breweries produce a full range of the company's core brands and produce most the company's shipment volume. The Pennsylvania location is the largest brewery, while the Ohio brewery is primarily used for production of most specialty and lower-volume products.
Boston and Los Angeles
Article continues below advertisement
The Boston Brewery is focused on developing new types of innovative and traditional beers, while also brewing and packaging beers in the Samuel Adams Barrel Room Collection as well as certain keg beers for the local market. Samuel Adams beers are mostly produced at the Boston brewery, and the Los Angeles brewery currently supports draft accounts in the area and on-premise consumption at its beer hall.
The benefits of in-house brewing
A large in-house production capacity allows Boston Beer to exert more control and flexibility over how the business operates. Plus, it allows management to make prompt product changes according to customer preferences and changes in market demand that are more volatile and subject to quicker changes these days.
Barrier and potential
Despite being the largest craft brewer in the United States, Boston Beer Company lacks the scale to compete with companies like Anheuser-Bursch InBev, SABMiller, and Molson Coors Brewing Company on a cost basis. This isn't a big problem at the moment, as the craft beer market is growing rapidly in the double digits. However, this could present a problem down the road if consumers don't see the difference in Samuel Adams's beer and other craft beers. On the flip side, it also means that Boston Beer Company will likely benefit from economies of scale as it expands sales and presence in the U.S. consumer's mind.
Note: Boston Beer Company is part of the PowerShares Dynamic Food & Beverage ETF (PBJ). Molson Coors Brewing Company (TAP) is part of First Trust Consumer Staple Alpha Fund ETF (FXG).