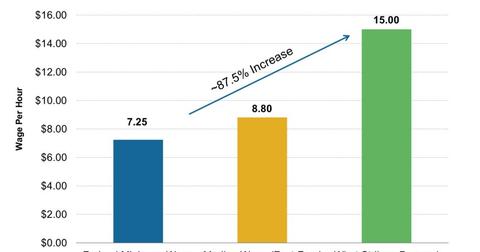 Fast food companies pay near minimum wage, yet high wage expense
By Xun Yao Chen

Updated
Wage expense: A major cost for restaurants
Wage expense makes up a large percentage of food retailers' costs. According to IBIS World's cost benchmark, employee expense makes up ~24% of total sales in the United States for fast food restaurants. So changes in wage expense can have an impact on earnings and share prices, if everything else holds true. But the world isn't always as straightforward as it seems in theory.
Fast food workers protesting for wage increase to $15 an hour
Article continues below advertisement
On August 29, 2013, thousands of fast food workers walked out, protesting for a wage increase to $15 an hour. That's an increase of 87.5% from the current going rate of ~$8.0, just above the federal minimum wage law. Although McDonald's doesn't publicly say what it pays its employees per hour, there are a variety of sources available on the web (of course, there's always the option to ask someone who's working at McDonald's).
Source #1: Bureau of Labor Statistics
The Bureau of Labor Statistics is one area that contains good information about employment, wages, household data, inflation, benefits, and productivity. Mean wages for fast food and counter workers amounted to $9.04 per hour, while the median was $8.80. Because the necessary skills that employees need in order to work at a restaurant are undifferentiated, there isn't a whole lot of difference between what one employee gets paid at one company like McDonald's versus another employee at a different fast food restaurant like Dunkin Donuts.
Source #2: Payscale.com
Article continues below advertisement
Another resource that investors can use is payscale.com, where people can search for the market rate for their type of work and title. Thankfully, Bloomberg Businessweek has done studies on the data, and McDonald's is said to be paying slightly less than $8.00 per hour, which is lower than what's being paid at other fast food restaurants. Keep in mind that wages differ slightly from region to region because of the cost of living.
Source #3: Annual reports
Annual reports are another resource investors can use. Based on its most recent 2012 financial filings, McDonald's had 440,000 employees directly underneath its corporation. While its website says it has 1.8 million employees, these include employees that are hired by the brand, which include franchisees and the McDonald's company itself. With an annual payroll and employee benefit expense of about 4.7 billion for employees in McDonald's company-owned restaurants, each employee will receive just $10,681 per year in salary, which is equivalent to $5.14 per hour for each employee if each worker works for 40 hours per week (full-time) for 50 weeks in a year.