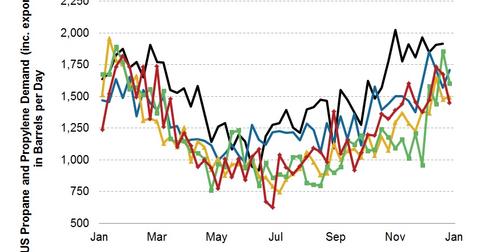 This fall's bumper crops pushed up propane demand
By Ingrid Pan

Nov. 22 2019, Updated 5:24 a.m. ET
While the major use of propane in the U.S. is for home heating and petrochemicals, another major source of demand for the fuel is from the agricultural sector. This season produced an usually large corn harvest, and according to the U.S. Department of Agriculture, corn production is forecast to be 14.9 million bushels in 2013–2014—a new record. The harvested corn must be dried to a certain standard before it can be stored to avoid mold and related issues.
Article continues below advertisement
The large harvest, combined with a wet growing season, has increased propane demand from the agricultural sector. According to data from the U.S. Energy Information Administration, demand for propane in November was the highest it has ever been for the same period in prior years. For the week ending November 1, domestic demand was 1.8 million barrels per day. Note that propane demand is seasonal, and demand increases in the winter when the fuel is used for home heating, which is why a comparison to similar periods is warranted.
This increase in propane demand from the agricultural sector was one of the drivers behind the rally in propane prices, as the commodity increased through the autumn harvest season from ~$1.00 per gallon in late September to ~$1.30 per gallon in early December.
Note that some master limited partnership names that are propane distributors serve agricultural customers. For example, AmeriGas (APU) notes that agricultural customers represented 8% of fiscal 2013 sales, and Suburban Propane (SPH) notes that agricultural represented 5% of 2013 sales. The increased demand from agricultural customers this season may actually have a positive effect on these companies' sales in their agricultural segment. On the other hand, it's possible that the higher prices from agricultural demand could eat into sales from these companies' residential customers, who are price-sensitive. Please read the next section of this series for more detail on how higher propane prices could negatively affect these names.