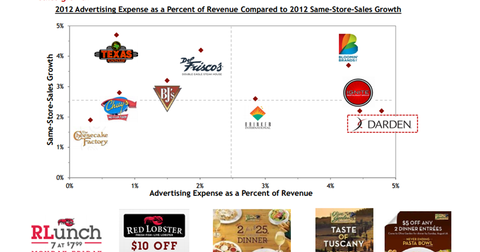 Why Darden's ineffective marketing strategy is hurting profits
By Xun Yao Chen

Updated
Ineffective marketing strategies
In our view, Darden's inability to achieve lower SG&A expenses as a percent of sales is driven by ineffective marketing strategies—possibly related to televised marketing for the Red Lobster and Olive Garden brands. While this could have resulted in a higher average customer check, frugal U.S. consumers are more price- and value-conscious than they were before.
Promotions
In relation to that, Barington believes that the company "has overspent on a flawed price promotion strategy that no longer appeals to its core customer base." With average check around $16 to $20 per person, Darden's core customers is the average U.S. population.
Article continues below advertisement
Darden acknowledges its missteps and chooses to change its menu and promotions. In a December 4, 2012, press release, CEO Clarence Otis expressed that the company's promotional offers needed some bolder changes, given that they "have not resonated with financially stretched consumers as well as newer promotion from competitors."
Accelerating profit declines
But Darden's promotion of discounts on its premium products likely accelerated Darden's decline in profitability and overall brand perception. If the average consumer is a lot more financially constrained than before, discounts won't be enough for Darden to maintain its own profitability—just imagine Louis Vuitton selling its goods at a 50% discount for a year.
Low same-store-sales growth
Among its peers, Darden also spends the most on advertising as a percent of revenue. Despite having the highest advertising expense, its same-store sales growth is nowhere near peers like the CheeseCake Factory, Texas RoadHouse, BJ's, Brinker International, or even Bloomin' Brands. RBC Capital Market's recent quote couldn't have explained it better: "As chains like Chipotle, Trader Joe's , and Whole Foods reinvest more in the core concept and less in advertising, consumers seem to be recognizing the food value without the need for traditional promotions or limited-time offers." This also includes advertisements on TVs. 
A problem
What we're getting is a widening of income levels in the United States. So restaurants need to adapt towards a provision of less pricy or more expensive menus items or average checks. This isn't as simple as raising or lowering prices. It also means changes must occur in products, advertising, company culture, objectives, and goals. (Detailed information is included in our Darden spin-off analysis, which viewers can access at the end of this series).