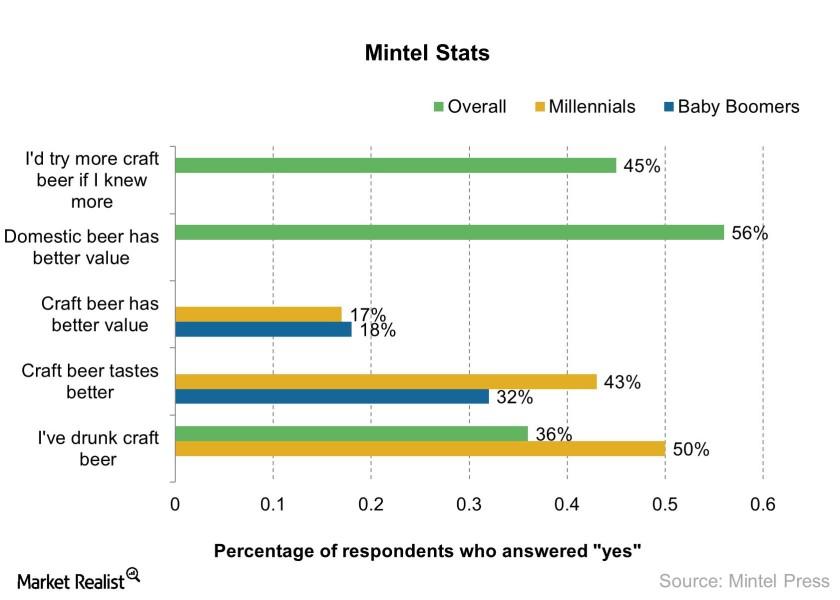 Why craft beer attracts Millennials and consumers with momentum
Craft beer: A different message
As the image of drinking premium beer is one of the key product offerings of the "better beer" category, advertising is crucial. Boston Beer Company (SAM) focuses on delivering the message of art, process, and quality. In contrast, companies that sell low-quality beer on the cheaper end focus on advertising a lifestyle to consumers.
Price and quality
Samuel Adams is priced a bit higher than the average "American beer," which comprises more water and is priced less than $1 per 12 ounces. While prices vary across retailers and the nation, Samuel Adams sells for at least $1 per 12-ounce bottle but is much smoother in texture and more flavorful. It has a well-balanced mix of slight bitterness and sweetness, which makes it a great product for everyone despite the higher price. We believe Boston Beer Company's business to be similar to Starbucks.
Craft beer consumers
Article continues below advertisement
Mintel's 2013 research shows that the sweet spot for craft beer consumers is the 25-to-34-year-old demographic. In the United States, 36% of U.S. consumers are said to have drunk craft beer, while the figure rises to 50% for Millennials. In fact, 43% of Millennials and Generation X say craft beer tastes better than domestic beer, while 32% of Baby Boomers say so.
Perceived value could be unlocked
The challenge for craft beer centers around value: just 17% of Millennials and 18% of Generation X say craft beer offers better value, according to Jennifer Zegler, beverage analyst. In fact, 56% of all consumers say domestic beer is better valued. While this may sound negative, it could also be an opportunity if craft brewers can send the message to consumers about craft beers. 45% of consumers say they would try more craft beers if they knew more about them.
As Jennifer Zegler noted, "To continue growing, craft beer must be its own best advocate and expand appeal beyond Millennials… Craft brewers need to focus on education through tastings and classes that inform consumers about the differentiation in flavor between craft beer and other alcoholic drinks."
Note: Boston Beer Company is part of the PowerShares Dynamic Food & Beverage ETF (PBJ). Molson Coors Brewing Company (TAP) is part of First Trust Consumer Staple Alpha Fund ETF (FXG).