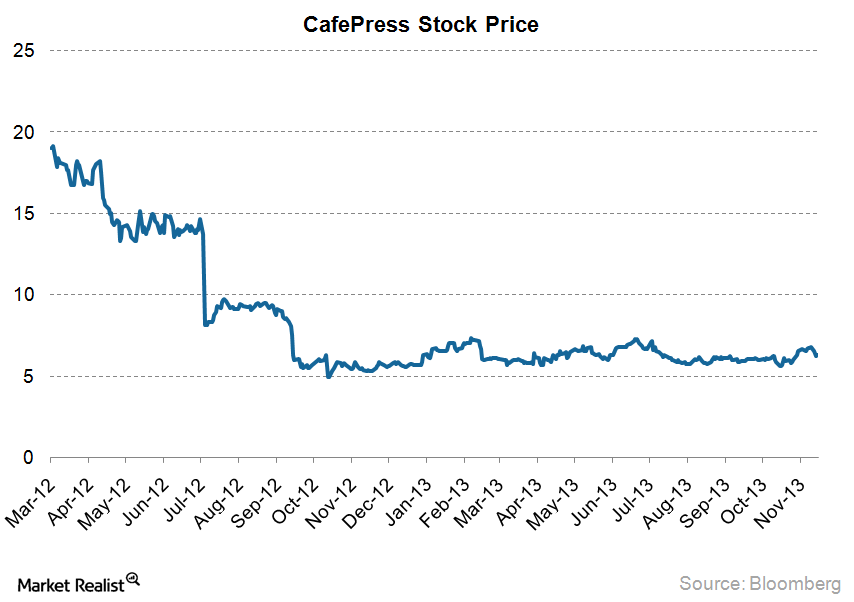 Why CafePress is a leading and undervalued e-commerce platform
By Judy Krandel, MBA

Nov. 20 2020, Updated 5:09 p.m. ET
CafePress (PRSS)
CafePress (PRSS) is a leading e-commerce platform enabling worldwide customers to create, buy, and sell a wide variety of customized and personalized products. The company is in the penalty box for past mistakes, including a sloppy IPO, missing projections, and poorly integrating acquisitions. What remains is a legitimate ecommerce business with a critical mass of revenues, leading technology, a proprietary library of content, and undervalued and forgotten equity value.
Article continues below advertisement
Company overview

CafePress (PRSS) is a leading e-commerce platform enabling worldwide customers to create, buy, and sell a wide variety of customized and personalized products. Products include clothing, accessories, art, photography, posters, stickers, home accents, and stationary. There are currently over 500 base goods available to design. This is truly crowd-sourced or user generated content. The company serves its customers and content owners through its portfolio of e-commerce websites, led by its flagship site, CafePress.com. Customers include millions of individuals, groups, businesses, and organizations who use PRSS's innovative and proprietary print-on-demand services to create customized products. There are currently 19 million registered members, 3 million individual shops that offer PRSS' services, and over 3 million current customers. The company works with content owners (individual designers, artists, and branded content licensors) to leverage its platform in order to reach a broad consumer base and monetize its content. The company's technology allows for single-unit and small-quantity orders on a when-ordered-basis. The company ships over 8 million items per year, and that number is growing.
The company tracks its total number of customers, total number of orders, and average order size (or AOS). AOS has traditionally run $50 to $53 and has been relatively stable. With the most recent acquisition of EZ Prints, the AOS has declined to $38 due to mix. The EZ Prints business has a much lower order value, including many orders below $10. One of the company's goals is to raise AOS through new higher-priced items such as home goods and logo sportswear.
The company has three types of revenue streams due to its diverse business model.
Article continues below advertisement
First, the company recognizes full revenues from online transactions through its portfolio of e-commerce websites, where customers find or design and buy products.
Second, the company recognizes net revenues (revenues less royalty payments to content owners) when an item is purchased using licensed content or from a previously designed product from one of its millions of designers. The company licenses content, particularly in the area of entertainment, for customers to use when designing products. PRSS also works as the backend for others' storefronts (like ABC.com or Urbanoutfitters.com) to allow those businesses to create and buy services using their own proprietary content.

Most recently, PRSS signed a deal with Marvel to give its customers access to Marvel characters. This is significant, as there is a move toward content owners looking for additional ways to monetize their investment. Marvel characters have great appeal, and now consumers can use these to design all sorts of exciting products. If a company like Marvel needed PRSS's expertise to allow customization, imagine how many smaller content owners could benefit from a similar relationship.  Likewise, PRSS has a deal with Sony Pictures to launch a store for the TV show Breaking Bad. These are just a few of the new entertainment and licensed opportunities for PRSS.

Finally, the company also acts as a fulfillment partner to other e-commerce businesses. Here, PRSS does not take title to the inventory and only recognizes fees for services as revenues.
Just a point on designers: individuals use the site and vast creative resources to design interesting products that others might like (whether to wear, or for the home, et cetera). Designers are creating 100,000 new designs per week on average. Those products remain on the site, and can be searched for and discovered by other customers. This allows for "long tail marketing." If a customer buys a designer's product, that designer gets 10% of the revenues. This has created an industry for a number of talented designers. In fact, there's a small number of designers who work from home to design products and earn 6 figure incomes. This has also created a huge library of proprietary products for PRSS, as the company owns the designs. PRSS's library is increasing by over 130,000 new images a week. Today, the company has a catalog of over 400 million unique products.
Cost of sales
Article continues below advertisement
The company's cost of sales includes raw materials (like cotton, as t-shirts are close to half of the business today) for its base products, shipping, labor, royalties, and fixed overhead related to manufacturing facilities. The company is currently consolidating numerous facilities it has acquired through acquisitions to increase utilization and improve manufacturing, labor, and shipping efficiencies. Inventory consists of such things as blank t-shirts or mugs. These products never really go bad and are sourced both locally and in Asia. Given the on-demand nature of the business, inventory levels can stay relatively low and the business can scale nicely.
Sales and marketing expense
Sales and marketing expense consists mainly of customer acquisition and customer support costs. One of the major keys to this business is efficient customer acquisition. Customers are acquired through various programs, including paid search marketing, email campaigns, flash deal promotions, display advertising, and social media programs. In the past, PRSS relied too heavily on Google search to organically drive its business and it has broadened out its marketing investments. Today, about 20% of traffic comes through Amazon sites, 15% through Google sites, 8% through Facebook, 7% through Yahoo sites, and 3% through others, like Microsoft sites, Twitter, and Pinterest. The company continues to refine the right level of spending and has increased this expense on an absolute and per-customer level as the ROI proves positive.
Customer acquisition costs
Article continues below advertisement
Customer acquisition costs run about $10 recently. On an average order of $50, with a gross margin around 40%, this leaves $10 of incremental profits after acquisition costs in year one. This does not consider that the average orders per customer run about 1.4 orders per year and growing, yielding $14 on average in profits on a $10 marketing investment before overhead. PRSS is also focused on lifetime value of a customer and is driving investments to increase order frequency and AOS. The company tends to realize higher average order values from repeat customers compared to first-time customers.
Technology and development
PRSS also invests a significant sum in technology and development, as the other major key to this business is efficient back-end customization technology and fulfillment. These dollars support its website operations as well as customized systems and equipment used to manufacture customer orders. PRSS has proprietary pre-press technology and can produce high-quality products across many categories. It buys off-the-shelf printers and re-engineers the drivers allowing them to handle mass customization jobs. It has developed custom order routing software to aggregate orders and route them to the appropriate printing location. The company's systems guide and track products through assembly, packaging, sorting, and shipment. The company has three issued and a number of patents pending relating to e-commerce services, proprietary printing, and decorating services.
The Market Realist Take
Article continues below advertisement
In 3Q 2013, CafePress reported a 16% increase in net revenues, to $50.4 million, compared to $43.6 million in the third quarter of 2012. It said the revenue growth was fueled by strong demand for customized products across its e-commerce properties. The company reported $-0.06 EPS for the quarter, but this was above analyst estimates. In its earnings call, it said international revenue was up 21% year-over-year. The focus on investment it made internationally has reversed the weakness it saw last year and resulted in a strong growth rate for international orders driven by categories including apparel and art. Its home and art categories are showing encouraging results, and they've helped propel 3Q growth in the marketplace. The company expects further growth in these categories.
It said its large corporate partnerships with leading brands including Lionsgate Entertainment and Marvel Entertainment (MVL) were popular with shoppers and key merchandise categories, including apparel, home, and electronics, along with new categories like footwear that contributed to solid growth.
In terms of operating metrics, the company's orders totaled 1,315,414—a 58% year-over-year increase, including the consolidation of EZ Prints, Inc., into CafePress's business. Average order size (or AOS) was $38, including the consolidation of EZ Prints—a 30% decrease year-over-year, reflecting the smaller order size of the EZ Prints B2B business. AOS excluding the impact of EZ Prints was $53, a 2% decrease year-over-year. The company said that, as most of its services orders are transacted through partners, they have a substantially lower acquisition cost per order. With CafePress services included, the 3Q cost per order was $7—a decrease of approximately $3 from a year ago and up $1 from 2Q. Without CafePress services, 3Q acquisition cost per order was $11, up $1 year-over-year and from 2Q. The increase in acquisition cost was from investment in the art product line, and from groups that have strong repeat and higher growth rates as well as higher AOS.
CafePress competes with Shutterfly (SFLY), Vistaprint Limited (VPRT), PFS Web (PSFW), Amazon (AMZN), and eBay (EBAY), and also Zazzle, Art.com, Printfection, and Spreadshirt.
Article continues below advertisement
In 3Q 2013, Shutterfly (SFLY) saw a 25% year-over-year increase in revenue with improved profitability. The company said it has a strong portfolio of brands and continues to grow via acquisitions. Another peer, PFS Web (PSFW), saw a decline in revenue for the quarter and said its financial results were impacted by previously announced client transitions, partially offset by growth in new and existing clients, including project work, and the impact of its ongoing cost control efforts.
According to eBay's (EBAY) 3Q report, eBay Enterprise (formerly GSI Commerce) saw $238 million in revenue for 3Q 2013, a 5% increase. Its Commerce Technologies segment generated $787 million in Merchandise Sales, a 13% increase, but revenue was pressured by a reduction in take rate. eBay Enterprise enabled its clients to grow same-store sales 13%, decelerating sequentially, but broadly in line with e-commerce growth rates. The company expects its broad omni-channel product portfolio, including complementary eBay Inc. assets, to be increasingly adopted by merchants seeking opportunities to grow their businesses while seamlessly meeting the needs of the connected consumer.
Vistaprint (VPRT) said revenue for 1Q 2014 grew to $275.1 million, a 9% increase over the revenue of $251.4 million reported in the same quarter a year ago. It said its revenue results were consistent with its expectations across all geographic regions, and it continued to make good progress against its strategic initiatives.
According to "Global B2C E-Commerce Trends Report 2013" by the Hamburg-based secondary research company yStats, online shopping is likely to become more personalized, and shopping via mobile devices is expected to grow by 2016. The creation of personalized products online like t-shirts, mugs, stationery, photo-based merchandise, and invitations is growing, and the companies operating in this space seem to be benefiting from these trends. However, analysts and industry experts believe companies like CafePress also face challenges in the form of pricing pressures due to high competition, integration of acquisitions, a higher AOS due to product mix, and increased pricing, all of which might impact their growth.