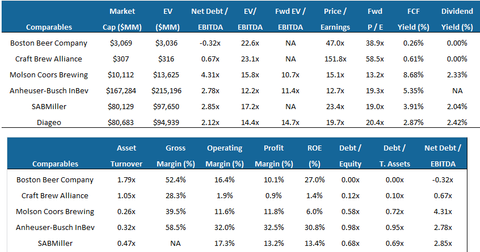 Why Boston Beer Company can unlock further value by leveraging up!
By Xun Yao Chen

Updated
Leverage
A company's earnings are affected by sales, operating leverage, and financial leverage. Companies with higher leverage will see more dramatic changes in earnings due to some movements in sales. When a company is growing, companies with high leverage would experience larger share price appreciation as earnings per share increase at a higher rate. However, this is a negative when sales are growing.
Using more debt
Article continues below advertisement
Overall, using financial leverage increases the riskiness of an investment. But a company's stock price could also benefit from more debt if adding debt has a positive impact on earnings per share beyond what equity investors will demand as higher return. This occurs because debt has a priority over equity on claim on company's asset and the interest can be used to minimize taxes.
Share price appreciation
When a company's debt level is lower compared to the industry average, shares will often appreciate when more debt is used. Boston Beer Company's low debt profile is one area where management could unlock shareholder value in the future. While large peers like Anheuser-Busch Inbev, SABMiller, and Molson Coors Brewing all show debt to tangible assets ratio of above 0.50 times, SAM has close to zero debt.
Factors that may be holding back leverage
The probability that management would (and will be able to) unlock value through more debt could be limited due to certain restrictions agreed upon with current credit lenders and management's unwillingness to add on debt. Ulrich, CFO of Boston Beer Company, has been with the company since 2003. Prior to that, he served as CFO at Acirca from 2001 to 2003, and as VP Finance at a subsidiary of Diageo from 1995 to 2000.
Note: Boston Beer Company is part of the PowerShares Dynamic Food & Beverage ETF (PBJ). Molson Coors Brewing Company (TAP) is part of First Trust Consumer Staple Alpha Fund ETF (FXG).