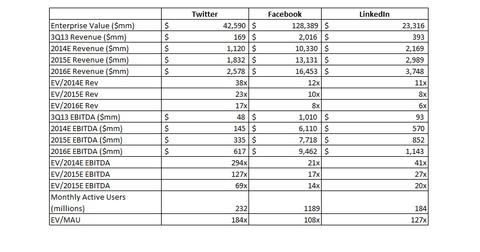 Better-priced alternatives to Twitter for your portfolio
By Ingrid Pan

Updated
A lot of hype
Back to the tongue-in-cheek confectionery comparison, the Dominique Ansel Bakery offers a variety of other superb desserts, including the DKA, a version of a caramelized croissant that many gourmands have argued is a better pastry than the cronut. While customers clamor for cronuts, dozens of DKAs linger behind the glass. You don't have to wait in line for it and you don't have to pay a fee for someone to get it for you. Arguably, to the average customer and consumer of pastries, the DKA tastes just as good as the cronut, and according to our own taste test, the DKA is even better. Plus, there are probably more than a hundred other desserts in New York that offer a higher tastiness-to-cost (both time and financial costs) ratio. Then what's causing this seemingly irrational mismatch in value? Why would you stand in line in the cold and overpay for a product that's potentially inferior to another product? Hype.
Again, we're not saying that Twitter is a bad company, nor that cronuts are a bad dessert. What we're saying is that the value the public assigns to both is way too high, especially given the universe of available alternatives.
Twitter versus Facebook versus LinkedIn
Article continues below advertisement
Even trading on forward multiples, Twitter stock is trading at over ~30x 2014E revenues (based on sell-side estimates and changing by the minute depending on where Twitter stock is), compared to ~12x for Facebook and ~11x for LinkedIn. We note that Twitter should have some premium built in for assumed higher growth. What the premium should be depends on how fast you think Twitter will grow compared to its peers.
In following pieces, Market Realist will present a more detailed discussion about Twitter valuation as well as downside and upside risks.