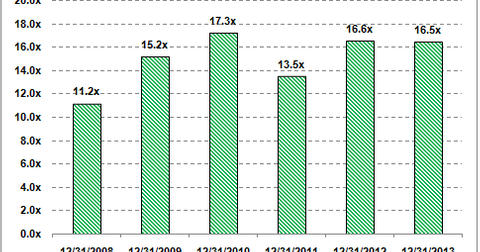 In high spirits? Why did Tudor open position in Beam?
By Samantha Nielson

Nov. 20 2020, Updated 11:28 a.m. ET
Paul Tudor Jones II in 1982 founded Tudor Investment Corporation, which is today a leading asset management firm headquartered in Greenwich, Connecticut. The Tudor Group, consisting of Tudor Investment Corporation and its affiliates, is involved in active trading, investing and research in assets across fixed income, currencies, equities and commodities asset classes and related derivative and other instruments in the global markets for an international clientele. Tudor has around $13.6 billion in assets under management. The investment strategies of the Tudor Group include, among others, discretionary global macro, quantitative global macro (managed futures), discretionary equity long/short, quantitative equity market neutral and growth equity.
It started positions in Apple Inc (AAPL), Beam Inc (BEAM), Infosys (INFY) and Intercontinental Exchange Inc (ICE). It sold Merck & Co (MRK) and Forest Laboratories Inc (FRX).
Abbreviated financial summaries and metrics for these securities are included below. Detailed analysis and recommendations require a subscription (more information at the bottom of the article).
Why buy Beam Inc (BEAM)?
Beam Inc, formerly known as Fortune Brands, Inc. is a 0.60% position in Tudor's portfolio.
Article continues below advertisement
For 3Q 2013, Beam reported net sales that were lower by 4% on a reported and comparable basis. It said sales were adversely impacted an estimated 7 points by the timing of shipments in the U.S., Australia and emerging markets, together with a challenging comparison in India. Diluted earnings per share from continuing operations were $0.52 versus $0.61 per share in the year-ago quarter.
Its 3Q comparable sales were down 4% from the prior year quarter, principally reflecting the impact of factors largely  the timing of sales in the U.S.as distributors reduced inventory; the timing of sales in some of its softer emerging markets within the second half, together with challenging comparisons in India; and the timing of sales in Australia as its large customer reduced trade inventory levels in the quarter. It estimated these factors adversely impacted the top line by 7 points of growth. Its underlying growth was slower due to two trading headwinds namely the softness in price competition in the Australian market and weakness in the U.S. ready-to-serve cocktails category. However, it said these are expected to improve going forward.
Despite the timing of the shipments, it saw consumer strength in North America, Europe, the Middle East, and Africa. Led by Bourbon, its consumer sell-through strengthened in North America, and it sustained outperformance in EMEA. Year-to-date comparable sales in each of these segments were up 4%. In the U.S., consumer takeaway accelerated throughout the quarter as its leading Bourbon, Tequila and Vodka brands gained momentum. In Europe, Middle East and Africa segment, it continued to deliver above market performance, led by Jim Beam's strength in Germany and across Europe. Its Bourbon portfolio grew comparable sales at a double-digit rate in both North America and Europe.
Article continues below advertisement
It continues to expect a strong 4Q based upon an assumption of continued favorable demand trends in its core U.S. market, a gradual recovery in the Australian market and the benefit of timing in emerging markets, coupled with favorable comparisons in India. It believes the fundamentals of its business remain strong particularly its leadership of the Bourbon category, a strong position in the U.S. and global routes to market, and success in driving growth through innovation. These strengths expects to drive sustained outperformance over the long term.
Its peers include Brown-Forman Corporation (BF/B), Diageo PLC, (DEO), Pernod Ricard (PDRDY) and Davide Campari – Milano SpA (DVDCY).
Beam Inc. manufactures and sells distilled spirits worldwide. The company's principal products include bourbon whiskey, tequila, Scotch whisky, Canadian whisky, vodka, cognac, rum, cordials, and ready-to-drink pre-mixed cocktails. It offers its products under the Jim Beam Bourbon, Maker's Mark Bourbon, Sauza Tequila, Courvoisier Cognac, Canadian Club Whisky, Teacher's Scotch, Pinnacle Vodka, Laphroaig Scotch, Knob Creek Bourbon, Basil Hayden's Bourbon, Kilbeggan Irish Whiskey, Cruzan Rum, Hornitos Tequila, Skinnygirl Cocktails, and Sourz Liqueurs brand names, as well as combined Local Jewels and Value Creators brands.
Article continues below advertisement
Born in Memphis, Tennessee, Jones then went to University of Virginia, earning an undergraduate degree in economics in 1976 as well as a welterweight boxing championship. He then went on to work for Eli Tullis, a successful cotton speculator at the New York Cotton Exchange. One of Jones' earliest and major successes was predicting Black Monday in 1987, tripling his money during the event due to large short positions.
As of March 2013, founder Paul Tudor Jones II,  was estimated to have a net worth of USD 3.6 billion by Forbes Magazine and ranked as the 108th richest American and 376th richest in the world. With this financial success he founded the Robin Hood Foundation, a philanthropic organization mainly backed by hedge fund operators.