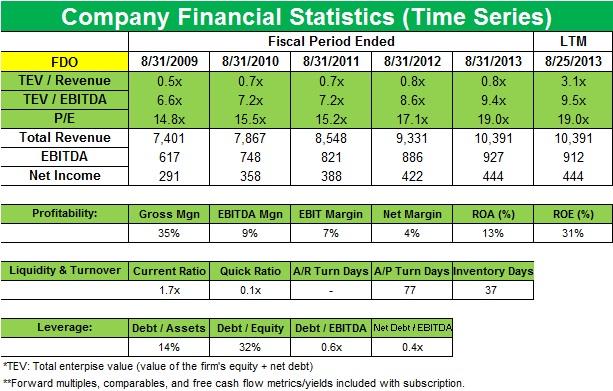 Eton Park Capital opens new positions in FDO, STZ, BID, EQIX, Sells NLSN, PCLN – 13F Flash
By Samantha Nielson

Oct. 29 2019, Updated 5:09 p.m. ET
In this six-part series, we will go through some of the main positions Eton Park Capital traded this past quarter
Eton Park Capital Management is a multi-strategy hedge fund founded in November 2004 by former Goldman Sachs partner Eric Mindich.
The firm started new positions in Family Dollar Stores (FDO) , Constellation Brands (STZ), Sotheby's (BID), and Equinix Inc (EQIX) and sold positions in Nielsen Holdings NV (NLSN) and Priceline.com Inc (PCLN).
Abbreviated financial summaries and metrics for these securities are included below. Detailed analysis and recommendations require a subscription (more information at the bottom of this article).
Why buy Family Dollar Stores (FDO)?
Article continues below advertisement
Family Dollar Stores reported a 27.5% increase in diluted net income per share to $0.88 in 4Q 2013. Total net sales increased 5.8% to $2.5 billion but missed analyst estimates. Comparable store sales, customer traffic, and the average customer transaction value in the quarter were flat. Sales were strongest in the consumables category, which increased 8.3% during the quarter, driven primarily by strong growth in refrigerated and frozen foods, health aids, and tobacco. In terms of outlook, the company said it's taking a cautious approach given the uncertainty of the operating environment and the near-term challenges customers face. It said that an improving sales trend, combined with continued gross margin expansion and tight expense control, should result in higher profitability as it moves through fiscal 2014. For 1Q 2014, the company expects comparable store sales to decline in the low single-digit range and that diluted earnings per share will be between $0.65 and $0.75 compared to $0.69 in 1Q 2013. Despite the positive outlook, the company faces stiff competition from peers Dollar General (DG) and Dollar Tree (DLTR), which have boasted  strong revenues and same-store sales growth.
Eton Park Capital founder Mindich has a degree in economics, summa cum laude, from Harvard University. The fund is estimated to have around $19.4 billion in assets under management and has offices in New York, London, and Hong Kong. The fund follows a bottom-up, research-driven approach seeking mispriced assets that fall both within and between conventionally defined investment strategies. It invests in both public and private markets, and investors in the fund generally have their capital committed for between three and five years—considerably longer than the quarterly redemption notices that are characteristic of many hedge funds. Eton Park has a global approach to investing and flexibly allocates capital between regions in the same bottom-up, idea-driven manner that it applies to investment strategies within a region. It focuses its investments in Europe, North America, Latin America, Eastern Europe, Asia, the Middle East, and South Africa. Cross-border strategies are also an important area of emphasis.