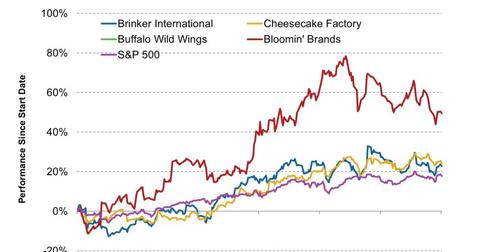 Which restaurant stocks could benefit from tablet technology?
By Xun Yao Chen

Updated
Will tablets work at every restaurant?
Most industry experts see the tablet as most suited to fast-casual or casual restaurants like Chili's, owned by Brinker International Inc. (EAT), or Panera Bread Co. (PNRA). That's because servers and services still play an important role in many full-service or fine-dining restaurants. Human interaction is still largely perceived as part of the product or service customers are purchasing. On the other hand, this doesn't really help quick-service or limited service shops like McDonald's Corp. (MCD), which have up-front menu boards, or Chipotle Mexican Grill (CMG), which have standardized their menu and procedures.
McDonald's explores Happy Table
Article continues below advertisement
McDonald's is exploring technology use in a different way. Welcome to the Happy Table. The Happy Table uses near-field communication technology to talk with an iPhone or iPad. Kids can open up a McDonald's app to play games using the restaurant's tables. The idea is to attract kids to the store to drive top-line revenue. Will this work? Well, that's something to ask your kids, your friends, or yourself when you step into the restaurant. It sounds like an idea that follows the company's traditional Happy Meal set. The Happy Table probably won't be a game-changer, but it may be just enough to sway the kids.
So how about other companies? 
While full-service companies may be slow in adopting tablets, the world is changing. Quality service won't just depend on "human" service. It's not like there will be no more workers at the restaurants. There may be slightly fewer, but shops won't turn into total robots. Brands that realize tablet and technology use doesn't necessarily mean poor service and that can smoothly integrate them into their restaurants could be leaders and outperform. Some stocks that may benefit from tablet adoption as a way to increase efficiency and customer satisfaction, as well as the bottom line, include Cheesecake Factory Inc. (CAKE), Buffalo Wild Wings (BWLD), and several names like Bonefish Grill, Carrabba's Italian Grill, and Outback Steakhouse, held under Bloomin' Brands Inc. (BLMN). Stay on the lookout for further developments in the restaurant industry.