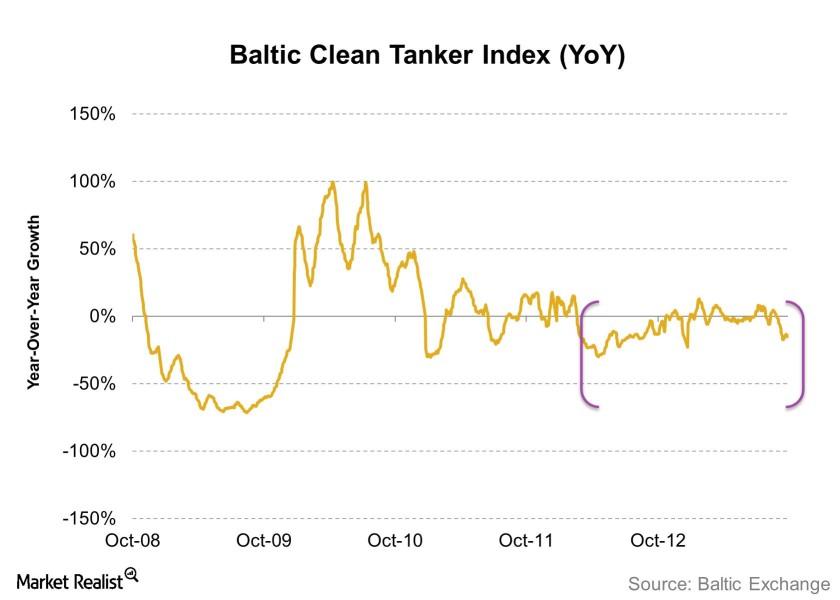 Product tanker rates remain low, weakness among product industry
By Xun Yao Chen

Dec. 4 2020, Updated 10:52 a.m. ET
Shipping rates: A leading indicator
The single most important indicator that affects tanker companies' performance is shipping rates. One well-established index that tracks the price of shipping refined oil across the ocean for representative routes is the Baltic Dirty Clean Index. Compiled daily by the Baltic Exchange for rates settled in the spot market on a time charter equivalent basis, it's widely considered a leading indicator due to its timeliness. It often has a significant impact on the share prices of tanker stocks.
Rates remain low overall
On October 14, the Baltic Clean Tanker Index stood at 512, down from 550 at the beginning of October and 601 at the start of September. While we saw some increase at the end of October, the recent weakness reflects either elevated supply growth or weak demand.
Year-over-year change in rates swimming in negative area
Article continues below advertisement
The Baltic Clean Tanker Index recovered, on a year-over-year basis, from the negative values during the first half of 2012, when US domestic production wasn't growing much. It started to recover during the second half of 2012, as oil production rose and product oil exports increased. Analysts often use year-over-year data to adjust for seasonality and make comparisons to demand growth.
The recent dip into negative year-over-year territory, which now sits at -17.02% as of October 14, is somewhat negative—although it's likely short-term, as the ship orderbook means managers still expect to earn profitable returns through new fuel-efficient ships.
Not enough to justify a full-blown downtrend
The current data isn't enough to suggest the start of a full-blown downtrend. But investors may want to be cautious because in the short term, Scorpio Tankers Ltd. (STNG), Navios Maritime Acquisition Corp. (NNA), Tsakos Energy Navigation Ltd. (TNP), and Capital Product Partners LP (CPLP) could face headwinds. To a lesser extent, performance in the product industry could also negatively affect the Guggenheim Shipping ETF (SEA), which invests in TNP and CPLP. If rates stay low, companies that are increasing vessel portfolio will benefit most.