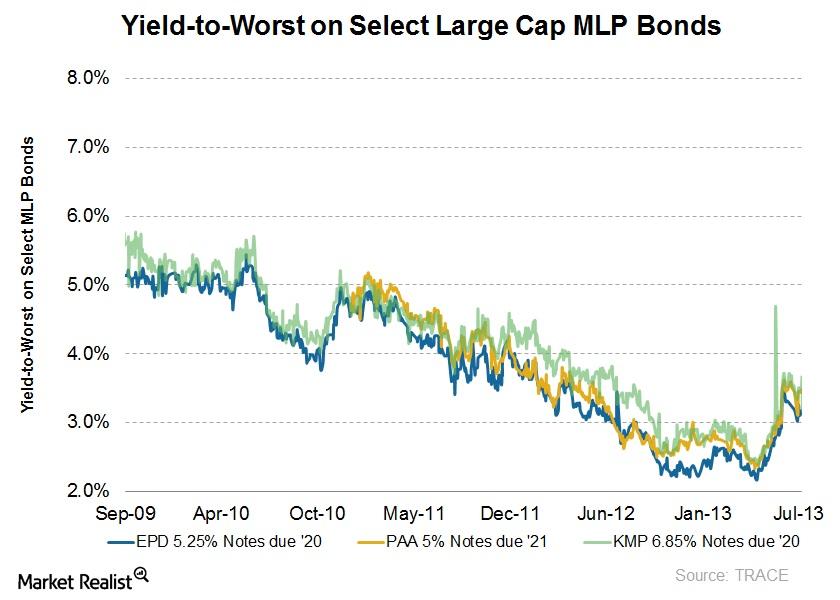 Open capital markets mean easy access to funds for acquisitions
By Ingrid Pan

Oct. 21 2013, Updated 4:21 p.m. ET
Access to funds
An important factor in the frenzy of M&A (mergers and acquisitions) activity in the midstream MLP space has been the ease of access to funds. Master limited partnerships (MLPs) generally don't keep much cash on their balance sheet, as with the MLP structure, the majority of excess cash flow is paid out to unitholders in the form of distributions. So MLPs generally need to tap external sources of funding to finance growth capex and acquisition programs.
Article continues below advertisement
Currently, the cost of funds remains relatively low for MLPs, and this has been the case over the past several years. On the debt side, companies have experienced historically low borrowing rates due to the quantitative easing policy of the Federal Reserve. Below, a graph of the yields on select high grade MLP bonds and their yields shows they've reached multi-year lows in 2013. Recently, yields rose somewhat, as the markets began to fear that the Fed would begin to slow its pace of asset purchases as the US economy gained strength. However, from a long-term perspective, yields still remain low.
On the equity side, midstream MLPs currently enjoy a reasonable cost of equity capital. Below is a graph of the yield on the Alerian MLP Index, a cap-weighted index of 50 of the most prominent energy MLPs, which can be taken as a proxy for the MLP universe. As seen on the graph, the dividend yield is currently near historical lows, implying a lower cost of equity capital for the overall midstream MLP universe.
The generally cheap cost of funds has allowed midstream MLPs to bid more aggressively on potential acquisitions, whether purchasing another company or stand-alone assets, and has helped to keep the midstream M&A market busy over the past few years.
For more on MLPs and cost of funding, please see Why master limited partnerships rely heavily on external financing.